Read time: 5 mins
A bi-weekly update from Contact North ǀ Contact Nord, Ontario's Distance Education & Training Network
Now on the Ontario Online Learning Portal for Faculty & Instructors:
Teaching in a Digital Age: Guidelines for Teaching and Learning
Contact North I Contact Nord's Research Associate, Dr. Tony Bates' Online Open Textbook and 12th Book on Technology and Learning Available Now on the Ontario Online Learning Portal for Faculty & Instructors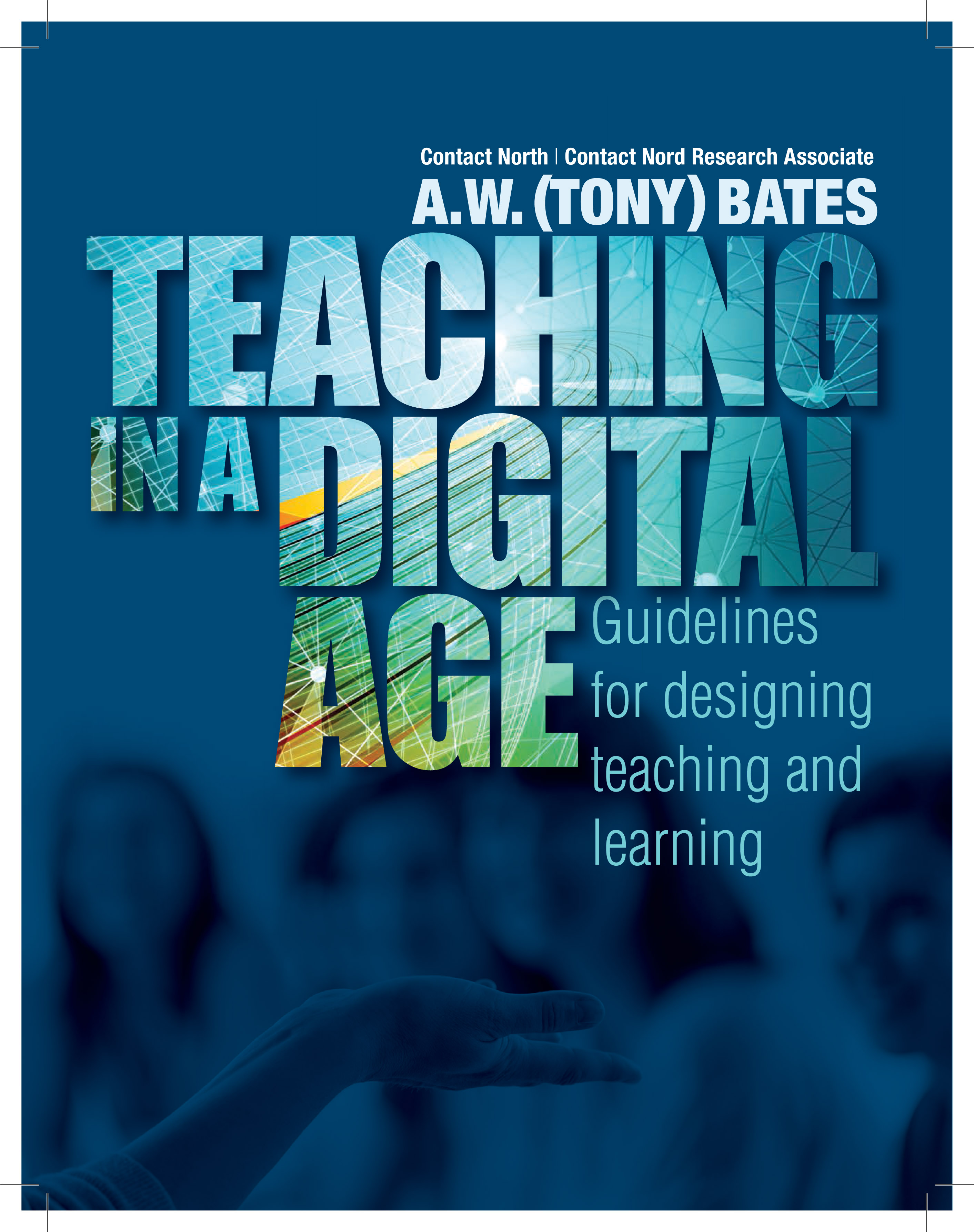 Through 12 informative chapters, Teaching in a Digital Age: Guidelines for Teaching and Learning answers your questions and provides helpful guidance and suggestions on a host of topics, including:Teaching in higher education in 2015, and beyond, requires a new approach because of changes in the economy and changes in technology.

Faculty and instructors are continually facing questions such as how do I effectively teach an increasingly diverse student population, how do I engage and support my students as class sizes increase, how do I use multi-media and other resources to build a high-quality course, and a host of other questions.

Drawing on his 40+ years of experience in higher education in Canada and around the world, Contact North | Contact Nord Research Associate Dr. Tony Bates has authored a comprehensive, easy-to-read guide that answers these questions and many, many more all in a single location.
How do I decide whether my courses should be campus-based, blended or fully online?
What strategies work best when teaching in a technology-rich environment?
What methods of teaching are most effective for blended and online classes?
How do I make choices among all the available media, whether text, audio, video, computer, or social media, in order to benefit my students and my subject?
How do I maintain quality of teaching, learning, and resources in a rapidly changing learning environment?
What are the real possibilities for teaching and learning using MOOCs, OERs, open textbooks?
While understanding and respecting the individual nature of teaching, Tony talks theory, options, best practices, point-by-point strategies – offering clear, practical, and actionable advice and guidance based on research and extensive professional experience in 30 countries.

Pick one chapter or read them all – you will find a wealth of information at your fingertips.

Teaching in a Digital Age: Guidelines for Teaching and Learning is available as a free, online open textbook, which you can read online, download to your tablet or computer, or print, either in sections or as a whole from theOntario Online Learning Portal for Faculty & Instructors.



---
CONNECT 2015 - Canada's Largest Education Technology Conference
May 5 - 8, 2015 in Niagara Falls
CONNECT 2015, Canada's largest education technology conference, takes place in iconic Niagara Falls, Canada from May 5 – 8, 2015.

There will be over 15 countries represented, as well as many US states. Whether you are an education leader, industry leader, or start-up, there is absolutely something for everyone with over 180 presentations and 150+ exhibitors anticipated. Join over 2,000 K-12 and post-secondary education and industry leaders from across the Canada and beyond. Be sure to take advantage of the special MindShare Learning community discount offer using the code below.


---
Sharing Innovation – The Ontario Pockets of Innovation Webinar Series
Stay on the cutting edge of online learning
Connect with other Ontario online learning innovators
Register today for a 45-minute free webinar on Encouraging and Supporting Online Student Engagement on Thursday, April 23, 2015, at 10:00 a.m. EST.

Hear from Thomas Ryan, Professor in the Faculty of Education at Nipissing University, about his experience and research in making the most of student engagement for enhanced learning in online courses, including:
When and how to use discussion boards;
Guiding student contributions;
Assessing student participations and interventions;
Integrating peer assessment of assignments;
Best practices in creating communities of learners.
The webinar features a 25-minute presentation followed by a 20-minute question and answer session.
---
Ontario Start-Ups
Leading Edge Online Learning Products and Services
The latest story in the series on Ontario Start-Ups, featuring examples of Ontario educational entrepreneurs offering products and services to colleges and universities, focuses on Akindi, a web-based platform that automates the creation and grading of multiple choice exams, using any paper and scanner. The platform provides instant grades, as well as detailed analytics on student results and exam construction.

Visit the Ontario Start-Ups section on the Ontario Online Learning Portal for Faculty & Instructors and discover numerous examples of how entrepreneurs are contributing to a quality educational experience.
---
Pockets of Innovation
Innovative online approaches to teaching and learning in Ontario's 24 Public Colleges and 22 Public Universities
Faculty and staff at Ontario's public colleges and universities excel in providing innovative online approaches to teaching and learning - whether through blended courses, technology-enhanced learning opportunities in the face-to-face classroom, or fully online programs and courses. The Pockets of Innovation Series highlights some of these developments, as examples of creative teaching that can serve as inspirations and models across the province.

Cambrian College is researching HyFlex options, in which the same course is available in multiple formats, as one way of enhancing student engagement and flexibility. Synchronous, asynchronous, online, and in-class options for the same course will be offered, and assessed for effectiveness and student preference.

A blended learning Calculus course for non-math students at Queen's University was designed to encourage active learning, individual and group problem solving, and the application of key concept to different fields of study. The course was assessed and components, such as the practice problem sessions and online tutorials, were re-designed to better meet learner needs. The result has been a 50% reduction in the course failure rate.
---