Read time: 3 mins
A bi-weekly update from Contact North ǀ Contact Nord, Ontario's Distance Education & Training Network
Now on the Ontario Online Learning Portal for Faculty & Instructors:
Four Big Changes in Online Learning to Watch in 2015
There are four big changes to online learning to watch in 2015:
Massive Open Online Courses (MOOCs) for credit;
Adaptive assessment tools;
3D printing; and
Video classes and Google class to make learning more mobile.
Find out how and where these four changes have been effectively used to benefit students.
---
Register Today - Digital Learning Reimagined at the Chang School at Ryerson University
The Chang School Talks 2015; Digital Learning Reimagined is a professional development and networking event, bringing together educators, entrepreneurs, publishers, digital media experts, and decision-makers.

This professional development event offers an opportunity to hear North American leaders and entrepreneurs – such as Jeremy Friedberg, founder of Spongelab, Philipp Schmidt, co-founder of Peer 2 Peer University, and Stephen Downes, co-creator of the MOOC – discuss transformations in academia and workplaces, and the influence of digital learning.

The event will be held at Ryerson University on February 19, 2015, from 3:00 p.m. to 7:00 p.m. For more information and to register, visit ChangSchoolTalks.ryerson.ca.
---
Are Commercial Interests Poised to Wipe Out Our Hard Fought Gains in Openness In Education?
Martin Weller, International Council for Distance Education (ICDE) Chair in Open Educational Resources (OER), Director of the OER Research Hub project, and Professor of Educational Technology at the United Kingdom Open University, shows how openness is everywhere in education:
Every day millions of people make use of free, open online tools and resources to learn and share;
Downloads from Apple's iTunes U site, with free educational content, passed 1 billion in 2013;
Articles resulting from publicly funded research are made freely available in open access publications;
British Columbia has announced a policy to provide open, free textbooks for the 40 most popular courses; and
The G8 leaders signed a treaty on open data in June 2013, stating that all government data will be released openly by default.

BUT all is not well. The real battle is underway. Commercial interests are lurking.

Educators need to take ownership of the digital changes in post-secondary education or….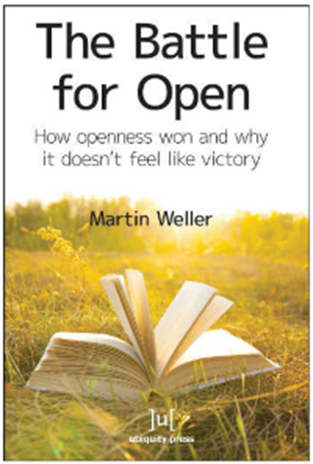 Check Martin Weller's incisive new book:

The Battle for Open – How Openness Won and Why It Doesn't Feel Like a Victory








---
Ontario Start-Ups
Leading Edge Online Learning Products and Services
The latest story in the series on Ontario Start-Ups, featuring examples of Ontario educational entrepreneurs offering products and services to colleges and universities, focuses on 3D Virtual Crafting (3DVC), an Ottawa company that creates customized virtual learning environments for colleges and universities. 3DVC has created engaging and interactive simulations of emergency situations, university campuses, a city centre, and a drop-in centre, as well as games, exercises, and meeting sessions for language and other learners.

Visit the Ontario Start-Ups section on the Ontario Online Learning Portal for Faculty & Instructors and discover numerous examples of how entrepreneurs are contributing to a quality educational experience.
---