WORLD CONFERENCE ON ONLINE LEARNING – A RECORD SETTING, SOLD OUT, STANDING ROOM ONLY GATHERING OF ONLINE LEARNING PROFESSIONALS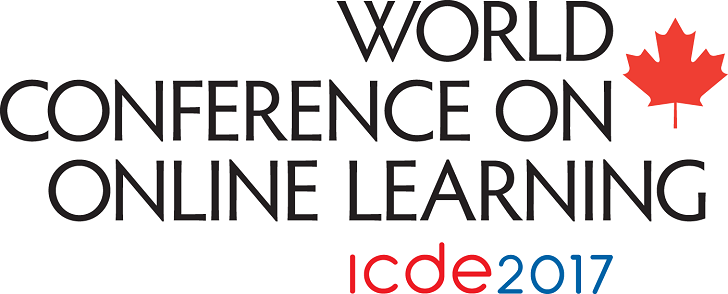 The world of online learning gathered in Toronto, Ontario, Canada from October 16 to 19, 2017, for the World Conference on Online Learning, organized and hosted by Contact North | Contact Nord.
Thank you to all delegates for their active participation and contributions throughout the World Conference and for making Ontario the destination for online learning.
A record 1,400+ delegates from 95 countries participated in 150+ plenaries, sessions, workshops, poster presentations and technology demonstrations by 500+ presenters from around the world.
Delegates are unanimous in their praise:
"A fantastic and unforgettable experience in these four days"
"The best World Conference ever"
"Lots of time for networking and socialization with old and new friends and colleagues"
"Scrumptious and warm hospitality"
The expertise, dynamism, and eagerness to exchange by the record-setting, sold out and standing room only gathering of the online learning sector clearly demonstrates the potential and promise of online education for learners around the world. The 500+ presenters showcased literally hundreds of examples of new practices in pedagogy and technology, insightful research to guide development, and institutional models to better support learner retention and success.
In the coming weeks, abstracts and presentations from presenters, as well as a photo and video collage will be posted to the World Conference portal.
Insight Reports for Online Learning News Readers

Contact North | Contact Nord released a special series of Insight Reports on topics in online and distance learning for delegates to the World Conference on Online Learning and is making those Insight Reports available to Online Learning News reader.

Click here to download all Insight Reports.

Mark the Date!
28th ICDE World Conference, November 4-7, 2019, Dublin, Ireland

During the closing ceremony of the World Conference on Online Learning, Dublin City University was announced as the host for the 28th ICDE World Conference, from November 4-7, 2019, in Dublin, Ireland.

Mark the dates and plan to attend! Full story

L'enseignement Comodal: Dual Mode Teaching in Business Administration at Laval University, Québec

Read how faculty at Laval University took the opportunity to use webinar technology to reduce the number of sections in a Business Administration program by combining face-to-face teaching with live webinar technology, and to give students the option of travelling to campus for their lectures or viewing them at a distance. Full story

UPDATED!
Contact North I Contact Nord's Sortable Directory of Online, Open & Distance Learning Associations and Consortia Throughout the World

Contact North | Contact Nord created this non-exhaustive list of online, distance and open learning associations and consortia around the world, providing links to websites (if available) to widen access to the valuable information offered by each. Explore the directory

Mark Your Calendar – OEB Global 2017
The global, cross-sector conference on technology supported learning and training takes place in Berlin, Germany from December 6 – 8, 2017.

OEB Global 2017 will bring you to the forefront of learning and technology developments, give you new insights on opportunities and challenges that are changing the world of learning, show you the latest best practice from leading organizations and allow you to meet, discuss and network with policy makers, higher education leaders, chief learning officers, technology & learning experts, learning and development professionals, change managers, ICT administrators, online learning curriculum designers and many, many more.

REGISTER NOW!

| | | |
| --- | --- | --- |
| | | Most Popular Links on teachonline.ca |
Visit teachonline.ca today and see why more than 250,000 faculty and instructors, administrators, technology providers, and policy makers from across Ontario and around the world use the resources available from the portal.

Do you have colleagues who might be interested in receiving the Online Learning News? Join our mailing list.

Contact North | Contact Nord
1139 Alloy Drive, Suite 104
Thunder Bay, Ontario P7B 6M8
807-344-1616


[email protected]
Unsubscribe