Submitted on Fri, 2015-03-13 11:45

The Software
Kahoots is an online platform that young entrepreneurs and post-secondary students can use to discover local projects, whether academic or extra-curricular, or start-up companies. Using Kahoots, people with a project can describe their ideas and students can create profiles highlighting their skills and interests. When students see a project that matches their interests and capabilities, they can send a message to the project leader to explore next steps in getting involved.
Students often don't know those outside their college or university programs, but their projects require varied skills and experience. Kahoots functions as a stand-alone website, offering Open Group membership to everyone who joins, as well as community hubs specific to subscribing college and universities. Using the Open Group, for example, engineers with a project idea connected to the health sciences can find student or graduate doctors, even if their campus does not have a medical faculty. Using their institutional hub, students can make connections across different faculties.
Student testimonials:
"I would join teams that need assistance with marketing, branding, social media, graphic design or photography."




"I am an artist and have experience with painting, drawing and photography. I also have basic knowledge of graphic design and American Sign Language (ASL). I would like to network with other artists."




"I'd love to be involved with hands on projects, building with timber and recycled materials. Any graphic design as well."




"I have an amazing idea, business plan, and design for an app, but I want to work with a developer to build it and bring it to market."
Although students on campuses have a wide range of capacities, finding the right people for a particular project is difficult. With Kahoots, multi-disciplinary teams can be created, providing practical, stimulating, and often entrepreneurial learning and experience to augment academic education.
Each Kahoots hub is secure and specific to a particular university or college. Kahoots communities have been created at Ryerson University, University of Windsor, Ontario College of Art and Design University, Algonquin College, and Queen's, Western and Wilfrid Laurier universities. Each university and college that adopts the premium version of Kahoots has a customized domain and branding for their community, with unlimited users and projects.
The Company
Kahoots was created by Allison Rhodes, Co-Founder and Director of Creative Innovation and Kaylie Greaves, Co-Founder and Director of Business Development, inspired by their experience in an entrepreneurship class in their final year at Ryerson University. They encountered difficulty in finding students who had the specific skills they needed for the assignment to develop and execute on a business concept and plan. They had the idea of creating an online tool that would help them, and students elsewhere, with this challenge. The development of Kahoots became their course project.
In March 2014, Kahoots won the Slaight Communications Business Plan Competition, with $25,000 in grant funding. Kahoots is now working in the Ryerson University start-up incubator, the Digital Media Zone. Kahoots beta site was launched in September 2014, and the live site in November.
Kahoots uses a subscription model for colleges and universities, which provides access for unlimited projects and students. Initially, each institution gets a small level of free usage so that students can start benefitting from the connections. The applications and advantages are then more easily recognized by students, faculty, and administrators.
The Future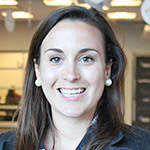 Allison Rhodes
In Spring 2015, Kahoots will incorporate internal messaging so that students will not have to access Facebook or other systems to communicate.
Allison Rhodes sees great potential in how the site can be used to bridge from academia to real world experience. For example, she spoke with a Ryerson University Communications class who had the assignment of building a social media strategy for a business. Using Kahoots, the students could expand this project from a classroom-based exercise to an initiation to the corporate world. Linking with a start-up company, the students could develop a practical social media strategy that could be used to promote and grow a new business.
Tools and Trends