Contact North | Contact Nord Adobe Connect FAQ Université d'Ottawa
IMPORTANT NOTICE
Contact North | Contact Nord is supporting the University of Ottawa by providing access to our Adobe Connect platform for courses.
You cannot access Contact North | Contact Nord's Adobe Connect through the University of Ottawa's Adobe Connect site (https://connect.uottawa.ca/).
If you have not yet completed the University of Ottawa course schedule form, please click here. If you have already done so, your classes will appear in your space. Please note that if it has been less than 48 hours since your request was made, it is possible that your classes may not appear yet.
Contact North | Contact Nord Adobe Connect Login information
Go to the link you were provided.
Login ID is the e-mail you provided in the sign-up form
Temporary password is Connexion23 (if you already changed your password it will be the one you set)
Click the Forgot your password link if you need to reset your password

Student Access
Students access classes using a link for each class.
You can also access the link directly from the My Sessions page in the portal and copy and paste it into an e-mail or in your class on Brightspace.

When using the guest url student login as guest. The name they enter is what will appear in your list of participants.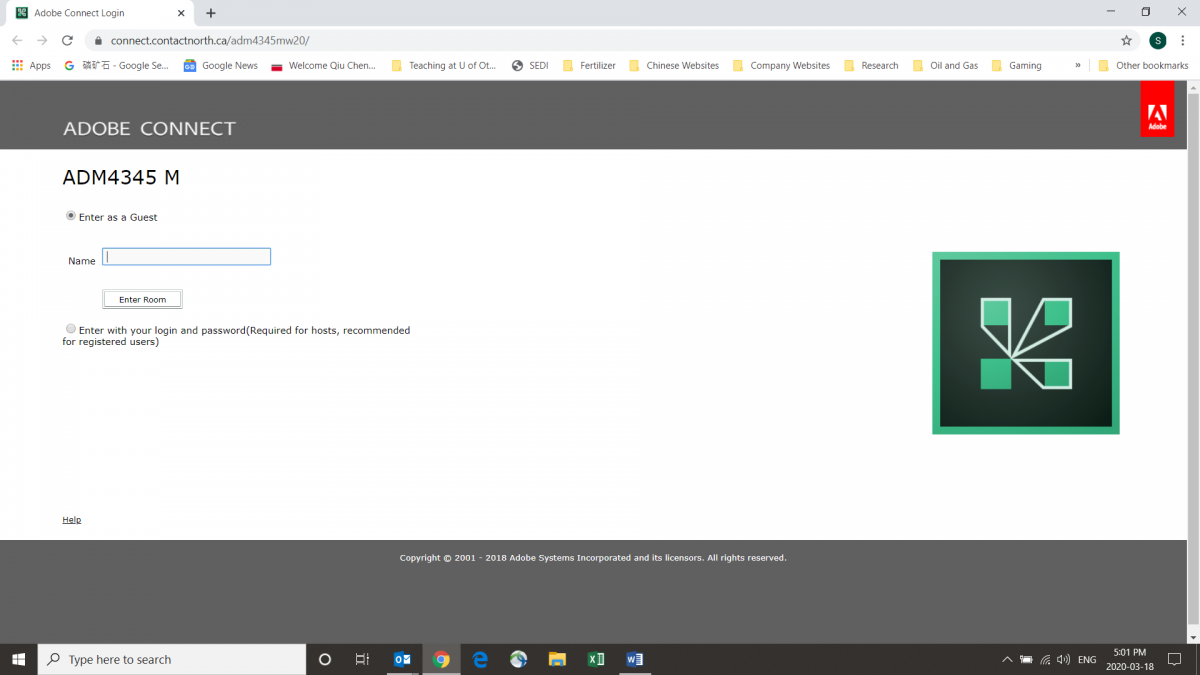 Recording Sessions
Lectures can be recorded in Adobe Connect and the recording link posted to Brightspace for your students to access and view.
Find the specific recording line
On the right side of the recording line you have icons / tools… click the

i

icon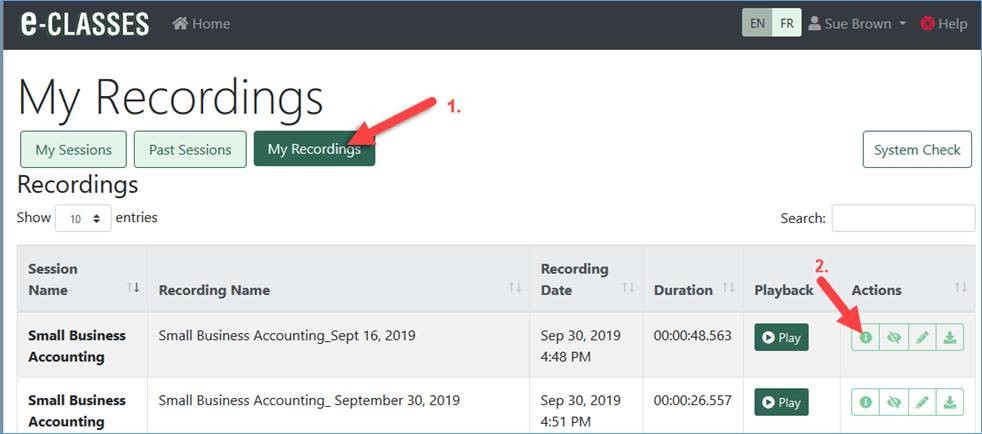 In Access, click the lock icon to make your recording Public access
In URL, copy the recording link and post it to your Brightspace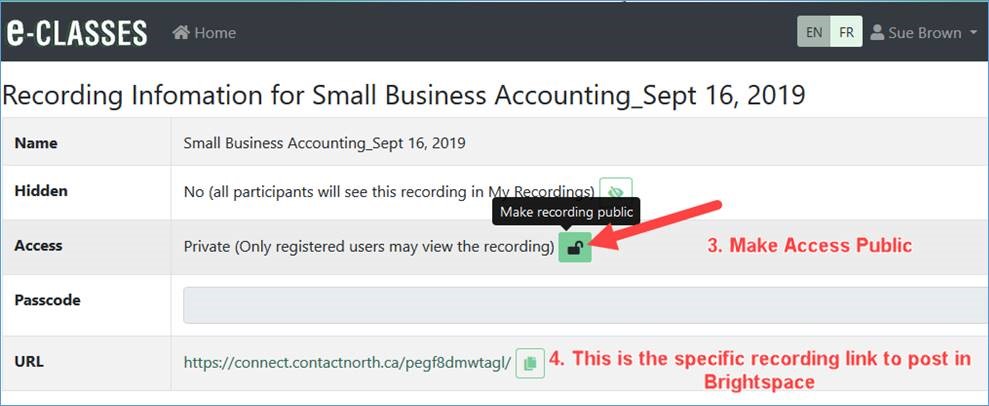 Please be patient with us
We are creating sessions as quickly as we can, with a priority on those starting soonest. We are currently working on Thursday and Friday sessions but expect to be caught up over the weekend.
If you do not see your session in the portal or listed on the Class Links site, and your class is scheduled for tomorrow morning on today, or if you are having technical difficulties accessing your classes, please e-mail [email protected] or call our IT Helpdesk at 1-888-850-4628. If your class is for a later date and not yet in your My Sessions list, please don't call the Helpdesk so that we can continue to support those who require technical assistance.
Thank you for your patience.
En guise d'appui, Contact Nord | Contact Nord fournit l'accès à sa plateforme Adobe Connect à l'Université d'Ottawa pour les cours de cet établissement d'enseignement.
Vous ne pouvez pas accéder à la plateforme Adobe Connect de Contact Nord | Contact Nord par l'entremise du site Adobe Connect de l'Université d'Ottawa (https://connect.uottawa.ca/).
Si vous n'avez pas encore rempli le formulaire de l'Université d'Ottawa concernant l'horaire de vos cours, veuillez cliquer ici. Si c'est déjà fait, vos classes apparaîtront dans votre espace. Veuillez noter que si ça fait moins de 48 heures que votre demande a été faite qu'il est possible que vos cours n'apparaissent pas encore.
Renseignements pour ouvrir une session Adobe Connect de Contact Nord | Contact Nord
Pour accéder à toutes vos classes, veillez vous rendre sur le portail e-CLASSES au lien qui vous a été acheminé.
L'identifiant de connexion est l'adresse courriel que vous avez fournie dans le formulaire d'inscription.
Le mot de passe temporaire est Connexion23. (Si vous avez déjà changé votre mot de passe, c'est celui que vous avez défini.)
Cliquez sur le lien « Mot de passe oublié? » si vous devez réinitialiser votre mot de passe.
L'accès aux étudiantes et étudiants
Les étudiantes et étudiants accèdent aux classes en cliquant sur le lien spécifique à chaque classe.
Vous pouvez également accéder aux liens de classe directement à partir de la page Mes sessions. Il est possible de copier-coller un lien de classe dans un courriel ou dans votre classe sur Brightspace.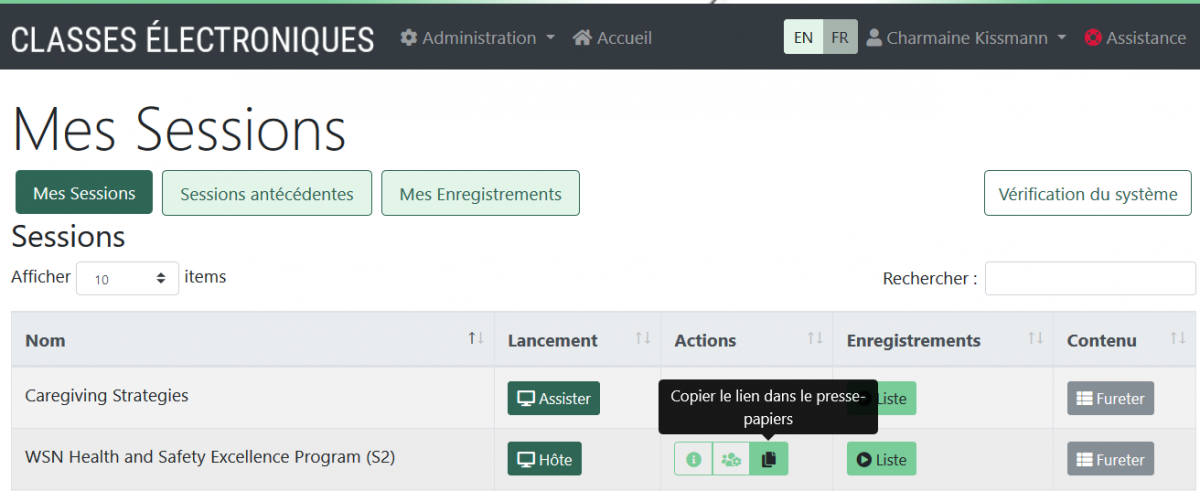 Lorsque vous utilisez les liens de présence des invités, les étudiantes et étudiants se connectent à la classe en tant qu'invités. Le nom soumis dans la section « Name/Nom » est celui qui apparaîtra dans la liste des participantes et participants.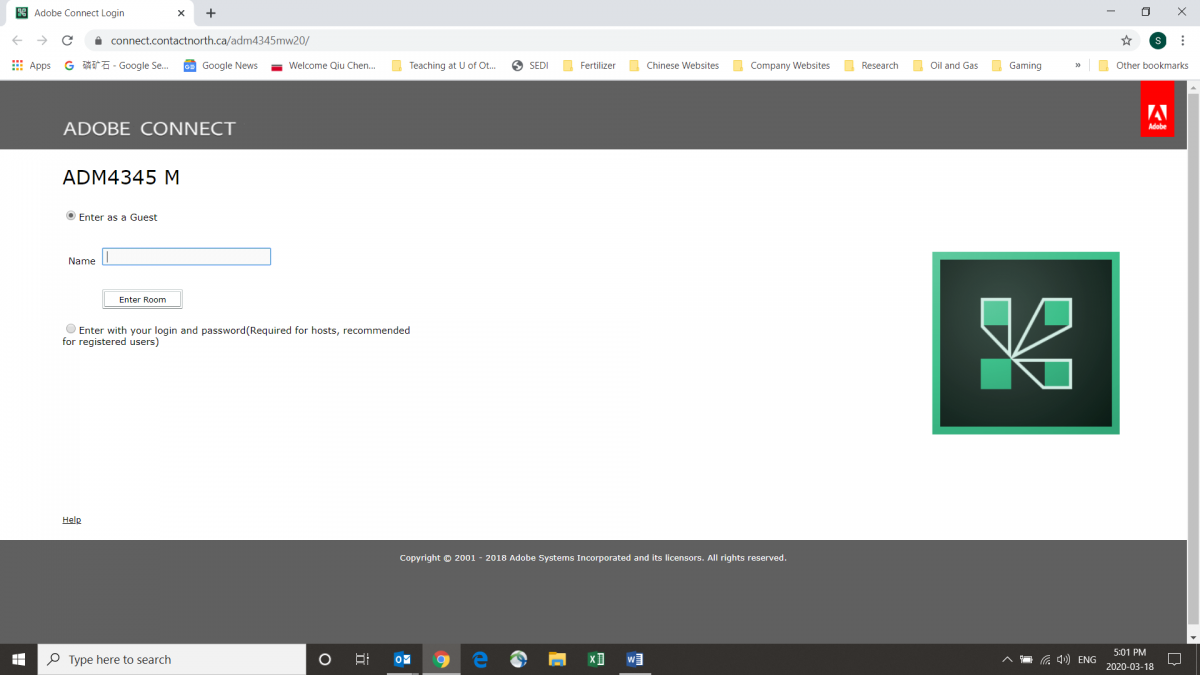 Enregistrements de conférences
Les conférences peuvent être enregistrées dans Adobe Connect et les liens d'enregistrement affichés sur Brightspace; ceci permet aux étudiantes et étudiants d'accéder aux liens et de les consulter.
Trouver l'enregistrement voulu.
Le côté droit de la rangée de l'enregistrement comprend des icônes/outils. Veuillez cliquer sur l'icône « i ».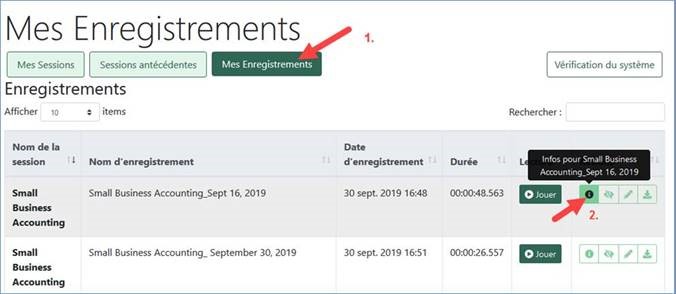 Dans la section Accès, cliquez sur l'icône du cadenas pour rendre votre enregistrement accessible au public.
Dans la section URL, copiez le lien d'enregistrement et affichez-le dans votre Brightspace.
Nous vous prions d'être patient.
Nous créons les sessions aussi rapidement que possible, en donnant la priorité à celles qui commencent le plus tôt. En ce moment, nous sommes à établir sessions du jeudi et vendredi. Le processus de rattrapage sera complété au cours de la fin de semaine.
Si vous ne voyez pas votre session dans le portail ou sur le site des liens de classe, et que votre classe est prévue pour demain matin ou aujourd'hui même, ou si vous rencontrez des difficultés techniques pour accéder à vos classes, veuillez envoyer un courriel à [email protected] ou appeler notre service d'assistance informatique au 1 888 850-4628. Si votre cours est prévu pour une date ultérieure et ne figure toujours pas dans votre liste Mes sessions, s.v.p. ne pas appeler le service d'assistance; ceci nous permettra d'appuyer celles et ceux qui ont besoin d'une assistance technique immédiate.
Nous vous remercions de votre patience.