Guidelines for designing teaching and learning for a digital age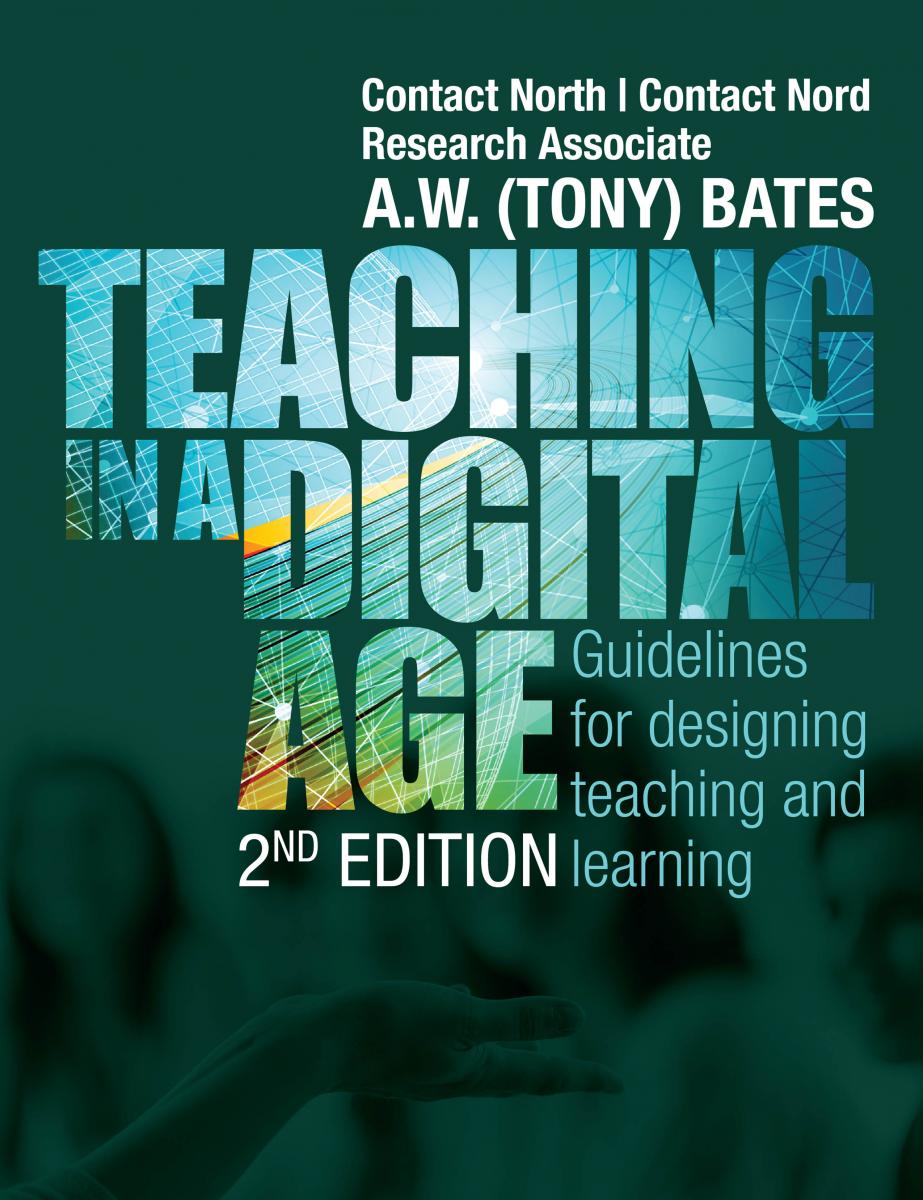 A.W. (Tony) Bates
Teaching in higher education in a digital age requires a new approach because of changes in the economy and changes in technology.
Faculty and instructors are continually facing questions such as "How do I effectively teach an increasingly diverse student population?", "How do I engage and support my students as class sizes increase?", "How do I use multi-media and other resources to build a high quality course?", and a host of other questions.
Drawing on his 40+ years of experience in higher education in Canada and around the world, Contact North | Contact Nord Research Associate Dr. Tony Bates has authored a comprehensive, easy-to-read guide that answers these questions and many, many more all in a single location.
Through 13 informative chapters, Teaching in a Digital Age: Guidelines for Teaching and Learning answers your questions and provides helpful guidance and suggestions on a host of topics including:
How do I decide whether my courses should be campus-based, blended or fully online?
What strategies work best when teaching in a technology-rich environment? What methods of teaching are most effective for blended and online classes?
How do I make choices among all the available media, whether text, audio, video, computer, or social media, in order to benefit my students and my subject?
How do I assess the educational value of emerging technologies as they evolve?
How do I maintain quality of teaching, learning, and resources in a rapidly changing learning environment?
What are the real possibilities for teaching and learning using MOOCs, OERs, open textbooks?
While understanding and respecting the individual nature of teaching, Tony talks theory, options, best practices, point-by-point strategies - offering clear, practical, and actionable advice and guidance based on research and extensive professional experience in 30 countries. The second edition includes more recent research, and sections on open pedagogy and emerging technologies, plus more activities and feedback for readers or students using the book.
Pick one chapter or read them all – you will find a wealth of information at your fingertips.
Teaching in a Digital Age: Guidelines for Teaching and Learning [Second Edition] is available as a free, online open textbook, which you can read online, download to your tablet or computer, or print, either in sections or as a whole.
Clicking READ opens a PDF version of Teaching in a Digital Age: 2nd Edition
The first edition of Teaching in a Digital Age: Guidelines for Teaching and Learning is available here in English and French
THE 10 FUNDAMENTALS OF TEACHING FOR FACULTY AND INSTRUCTORS
Newcomers or Experienced in Online Learning
By Contact North | Contact Nord Research Associate, Dr. Tony Bates
Interested in what works and what does not work in online learning?
Want to know the basics to save time and develop better courses from scratch?
Keen to ground your teaching in the latest research on online learning?

Contact North | Contact Nord's Research Associate, Dr. Tony Bates, provides a succinct introduction to faculty and instructors about whether or not to get involved in online teaching in the first place. And how to do it well.

These ten short guides are drawn from his 517-page bestseller, Teaching in a Digital Age, which has over 40,000 downloads as an open textbook and is available in seven languages.

Dr. Bates draws from his 40 years' experience in teaching online and at a distance, best practices from around the world and extensive research in online learning.

Download The 10 Fundamentals of Teaching Online for Faculty and Instructors.
Contents
Scenario A: A university professor addresses change
About the book – and how to use it
Chapter 1: Fundamental Change in Education
1.1 Structural changes in the economy: the growth of a knowledge society
1.2 The skills needed in a digital age
1.3 Should education be tied directly to the labour market?
1.5 The impact of expansion on teaching methods
1.6 Changing students, changing markets for higher education
1.7 From the periphery to the center: how technology is changing the way we teach
1.8 Navigating new developments in technology and online learning
Chapter 2: The nature of knowledge and the implications for teaching
Scenario B: A pre-dinner party discussion
2.1 Art, theory, research, and best practices in teaching
2.2 Epistemology and theories of learning
2.3 Objectivism and behaviourism
2.7 Is the nature of knowledge changing?
Chapter 3: Methods of teaching: campus-focused
Scenario C: A stats lecturer fights the system
3.1 Five perspectives on teaching
3.2 The origins of the classroom design model
3.3 Transmissive lectures: learning by listening
3.4 Interactive lectures, seminars, and tutorials: learning by talking
3.5 Learning by doing: Experiential learning
3.6 Learning by doing: Apprenticeship
3.7 Learning by being: The nurturing and social reform models of teaching:
Chapter 4: Methods of teaching with an online focus
Scenario D: Developing historical thinking
4.1 Online learning and teaching methods
4.2 Old wine in new bottles: classroom-type online learning
4.4 Online collaborative learning
Scenario E: ETEC 522: Ventures in e-Learning
4.7 'Agile' Design: flexible designs for learning
4.8 Making decisions about teaching methods
5.4 Strengths and weaknesses of MOOCs
5.5 Political, social and economic drivers of MOOCs
5.6 Why MOOCs are only part of the answer
Scenario F: How to cope with being old
Chapter 6: Building an effective learning environment
6.1 Integrating design principles within a rich learning environment
6.2 What is a learning environment?
6.9 Culture and learning environments
Chapter 7: Understanding technology in education
7.1 Choosing technologies for teaching and learning: the challenge
7.2 A short history of educational technology
7.4 Assessing media affordances: the SAMR model
7.5 Broadcast vs communicative media
7.6 The time and space dimensions of media
7.8 Understanding the foundations of educational media
Chapter 8: Pedagogical differences between media
8.1 Thinking about the pedagogical differences of media
8.7.a Emerging technologies: serious games and gamification
8.7.b. Emerging technologies: virtual and augmented reality
8.7c Emerging technologies: artificial intelligence
8.7.d Emerging technologies: conclusion and summary
8.8 A framework for analysing the pedagogical characteristics of educational media
Chapter 9: Choosing and using media in education: the SECTIONS model
9.1 Models for media selection
9.5 Teaching and media selection
10.1 The continuum of technology-based learning
10.2 Comparing modes of delivery
10.3 Which mode? Student needs
10.4 Choosing between face-to-face and online teaching on campus
Chapter 11: Trends in open education
Scenario H: Watershed management
11.2 Open educational resources (OER)
11.3 Open textbooks, open research and open data
11.5 The implications of 'open' for course and program design: towards a paradigm shift?
Chapter 12: Ensuring quality teaching in a digital age
12.1 What do we mean by quality when teaching in a digital age?
12.2 Nine steps to quality teaching in a digital age
12.3 Step One: Decide how you want to teach
12.4 Step two: what kind of course or program?
12.5 Step three: work in a team
12.6 Step four: build on existing resources
12.7 Step five: master the technology
12.8 Step six: set appropriate learning goals
12.9 Step seven: design course structure and learning activities
12.10 Step eight: communicate, communicate, communicate
12.11 Step nine: evaluate and innovate
12.12 Building a strong foundation of course design
Chapter 13: Supporting teachers and instructors in a digital age
13.2 The development and training of teachers and instructors in a digital age
13.3 Learning technology support
13.6 An institutional strategy for teaching in a digital age
Appendix 1: Questions to guide media selection and use
C: What is the cost in money and time?
T: Teaching and other pedagogical factors
Appendix 2 Online learning quality standards, organisations and research
Appendix 3: Independent reviews
A review from a faculty perspective: Professor James Mitchell
A review from an open and distance education perspective: Sir John Daniel
A review from a digital education perspective: Digital Education Strategies, Ryerson University
Feedback on Activities
Appendix 4: Feedback on Activity 1.8 Main conclusions from Chapter 1
Appendix 4: Feedback on Activity 7.1 How many technologies can you see in Figure 7.1?
Appendix 4: Feedback on Activity 7.5 Broadcast or communicative