Estimated time to read this post: 5 minutes
The Service
3D Virtual Crafting (3DVC), an Ottawa based company, uses the Avayalive Engage 3D platform to create customized virtual learning environments for its college and university clients. These virtual worlds can be used for interactive classes, joint projects, meetings, scenario-based situations, and other forms of engaging learning. 3D Virtual Crafting provides its clients with:
Custom design of virtual spaces, avatars, animations, and scenarios for learning;
Custom game design with exercises and quizzes if desired, to be used for team building, as ice-breakers with groups of distance learners, and for effective learning;
3D simulations of events and crises to be used for group training and experience;
Customized analytics on attendance, participation, and responses; and
Consultancy on developing and utilizing virtual environments in learning.
Among the clients 3D Virtual Crafting has worked with are Algonquin College, Carleton University, Nipissing University, and Lehigh Valley Health Network. They also create virtual spaces for corporate training.
Algonquin College: One of the resources 3DVC developed for Algonquin College simulates emergency situations to which emergency responders, including students in paramedic, police foundations, nursing, child and youth worker, and corporate security risk management, have to respond and communicate as a team. The students are assigned avatars in the uniforms of their professions and respond to situations such as crimes scenes, house fires, hospitals, domestic violence, and natural disasters, interacting in real-time and building their communication skills.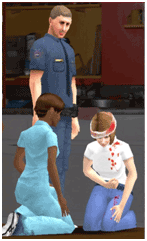 Carleton University: With the help of 3DVC, Carleton Virtual was built as a virtual environment closely resembling parts of the Carleton campus. In the virtual School of Linguistics and Applied Languages, students in programs in English as a Second Language Academic, Russian, and French work with their instructors and classmates in classrooms, meeting rooms, and open spaces for lectures, presentations, group projects, document preparation and editing, sharing desktops and resources, and extensive verbal communication.
In a summer session involving students in a Turkish university, students gathered around a fire and discussed professions, based on images above their chairs; each student had a small screen in the virtual environment on which they could take notes. A matching game that can be modified to link images and words, or words and parts of speech, or other pairings in use at Carleton, as well as for French language learning at the Calgary School Board. More detail on 3DVC's work for language learning at Carleton is provided in the Contact North | Contact Nord Pocket of Innovation entitled Expanding Reality for Learning.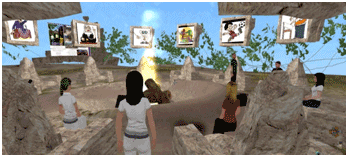 Lehigh Valley Health Network: In order to train staff in clinics across the US for team communication and medical procedures, Lehigh Valley Health Network had 3DVC develop detailed simulations for situations such as respiratory crises and allergic reactions. Walter Krumshyn, 3DVC's Chief Technology Officer, outlines how the participants take on roles as health care providers, and are able to measure pulse, heart, and lung rates as well as other procedures, with the trainer playing the patient; they run through the case and discuss what happened and their responses supported by statistics provided by 3DVC. The simulation is recorded and real-time and summary statistics are gathered on participation rates of those involved in the simulation.

Nipissing University: Nipissing University has recently begun to explore the potential offered by using the virtual world and 3D Virtual Crafting is working with them to construct the Nipissing 3D Engage virtual campus and the educational activities for the environment. Initial projects include a virtual maths drop-in centre and virtual classes for students in communities throughout Northern Ontario who are enrolled in the Aboriginal Teaching Initiative. The Contact North | Contact Nord Pocket of Innovation Making Virtual a Reality describes this work in more detail.

The Company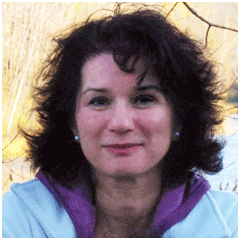 Nuket Nowlan, the President of 3D Virtual Crafting, first explored the use of a virtual environment for training when working with Nortel. As head of Cross Functional Collaboration and Learning, she brought together a wide-ranging team who explored the capacities of web.alive, a platform to create virtual environments. 3DVC spun off from this as a development and consulting company to support the web.alive software, now owned by Avaya and called Avayalive Engage. Working with colleges, universities, and private organization, 3DVC explores immersive learning and cooperative space as environments for learning.
The Future
Nuket Nowlan emphasizes that "meeting collaboratively in the virtual space is the key – both learning and motivation are enhanced through having a team engage together in real-time, regardless of distance." All of the 3DVC environments allow students to take notes, surf the web, and view multiple screens, but the key strength of virtual space is the interchange whether for language practice, team building, sharing perspectives, or other supports of enhanced learning. Detailed performance measurements for all sessions, such as levels of attention, participation, and contribution, are collected automatically for reference by instructors and administrators.
One project in development aims to provide senior high school and first-and second-year university students with resources for facilitating their career choices. 3DVC is creating profiles of various jobs, such as nurse, cook, and agriculture. The students visit the island, respond to questions about their interests, and then view the activities of the avatars representing the various career choices. Suggestions in terms of career choices and appropriate courses are given to students when they complete the exercise. The platform tracks their movements and time spent with the various options, and then analyzes this activity to provide recommendations based on their interactions. The prototype will be tested in Summer 2014.
For Further Information
Tools and Trends