Estimated time to read this post: 5 minutes
The Platform
The Toronto, Ontario company, Spongelab Interactive, is a learning technology company initially built around game-based learning and gamified learning environments in which game design theory and components are used to motivate and reward students. It has now built on these foundations to offer multiple, inter-related products and services to post-secondary faculty, instructors, and students, including:
STITCHTM, a full-service learning platform
Spongelab.com, an online source of high quality, free, and interactive media for science, technology, and mathematics
SpongelabPro, advanced tools, analytics and profession development for faculty and teachers
STITCHTM This learning platform is the core of the Spongelab online service and content, in addition to being a system available to institutions and organizations. STITCHTM combines the capabilities of learner and content management, teaching tools, social tools, analytics, operation management tools, as well as access to the extensive multimedia resources for science on the Spongelab site. Applying the research from game-based learning, the platform is built to motivate and award both faculty and students, and change the way they engage with learning systems and each other.
Spongelab.com: Thousands of pieces of free rich media for biology, chemistry, environmental studies, physics, mathematics, and technology courses are available, as simulations, games, lesson plans, quizzes, graphics, images, case studies, videos, and animations. Content-related media are accessible by searching a database that specifies accompanying textbooks and links to related materials on the same topic.
Games and simulations dominate the resources on Spongelab.com to take advantage of the capacity of game-based learning to teach and assess critical thinking, problem solving skills, and applications of understanding of options to the making of choices.
Spongelab has a team of educators, scientists, artists, animators and programmers who create media for the website; about two-thirds of the content comes from other organizations, educators, and students. A detailed quality assurance process ensures that each resource on the site meets Spongelab's educational and production standards. Once educators have established their profile on Spongelab.com, they have access to all the content and tools for organizing and sharing, as well as the process for submitting their own resources for possible inclusion.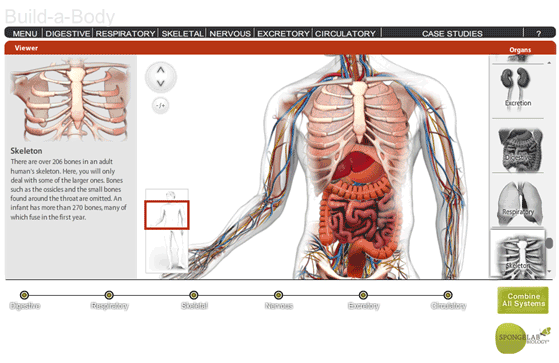 SpongelabPro: SpongelabPro is the platform that faculty can use to create modules or whole courses that integrate the media available on Spongelab.com with PowerPoint slides, video, activities, quizzes – whatever resources the faculty has to support learning – and make them accessible to students through the Spongelab.com site. Faculty support and training on blended learning and use of technology in the classroom are also available on SpongelabPro.
To make teaching more effective and responsive, faculty have access to real-time analytics that measure and report on student progress and challenges at group and individual levels.
Access and Costs: Spongelab.com is free and open to everyone, based on the principle articulated by Jeremy Friedberg, Partner and Co-Founder, that "there should be no fiscal barrier to learning". Students and faculty have free, unlimited access to the resources on Spongelab.com and this can be organized into modules using SpongelabPro. The learning system STITCH can also be integrated with institutional learning management systems, content management systems and websites, offering all faculty access to its platform, suite of advanced digital resources, authoring tools, and an array of additional services, at a cost to the college, university, or other client.
Partners: Spongelab has a variety of key partnerships:
Academic partnerships with York University, University of Ontario Institute of Technology, Centennial College, and Seneca College; and
Over 90 content partnerships with organizations such as PhET, the Natural Science and Engineering Research Council of Canada, the Howard Hughes Medical Centre, and eBol.
Global Science Community: More than a platform for teaching and learning science, Spongelab is a global science community where Spongelab, its partners, and users contribute and collaborate in the name of science.
The Company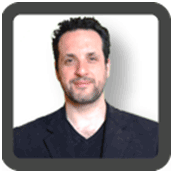 Motivated by his university teaching experience – particularly trying to convey 3D systems through 2D tools - Jeremy Friedberg wanted to create a source for rich media and gaming applications in science that would motivate and engage students. Spongelab Interactive was established in 2007, as a learning technology company committed to integrating games and simulations into the science learning experience – and its products are now used in 155 countries. Over 5 million pieces of content have been delivered to users, and its website has half a million page views a month.
The Future
The company continues to build educational game and digital teaching material, but it has expanded to the provision of a complete learning solution on the STITCHTM platform. Through extensive research, Spongelab Interactive has recognized that in order for the learning from game-based resources to be effective, it has to be integrated with all the other components of teaching and learning. They worked from an understanding of what Jeremy Friedberg calls the "ecosystem of learning", particularly behaviour and motivation. Rather than use negative incentives, Spongelab Interactive built both intrinsic and extrinsic motivators into the platform, so that both faculty and students feel rewarded as they move through the modules and media.
As students use their learning materials on STITCHTM, Spongelab's research has shown that the platform achieves an exceptionally high success rate at keeping them moving forward and completing their work. In addition, the detailed analysis of each student's activities has allowed the development of more personalized learning, where the faculty can be alerted to areas of challenge or diminishing involvement on the part of each student, allowing for intervention and encouragement. Dr. Friedberg sees this personalized approach to learning as a key area of development using the data sets available from the platform.
For Further Information
Jeremy Friedberg
Partner, Co-Founder
Spongelab Interactive
[email protected]
Tools and Trends