What's New is sent to everyone who took the Adobe Connect Instructor session with Contact North Learning Technologies.
Latest What's New Adobe Connect - September 2019

We've been busy creating additional resources and host tools for your Adobe Connect web conference sessions!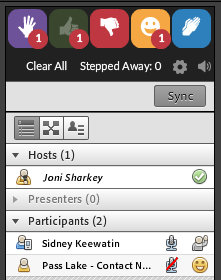 HandsUp is a third party pod hosts can add to any or all of their layouts.
The communication icons are more prevalent, you can choose your preferred settings, and you can position and size the pod where you wish. On mobile, HandsUp pod shows as "unsupported" however it integrates into the feedback given by mobile users.
How to set up HandsUp pdf video tutorial
After logging in to the e-CLASSES Portal hosts will see new tools in their My Sessions and My Recordings event lines – enroled participants, attendance report, recording and playback options. New portal tools will continue to be developed:


We continue to create how to resources for Adobe Connect pods and classroom tools – available for your reference 24 / 7 !
Host Help on the e-CLASSES Portal

Video tutorials on e-CLASSES Instructor YouTube channel
Each component of the Share Pod now has a pdf and video resource.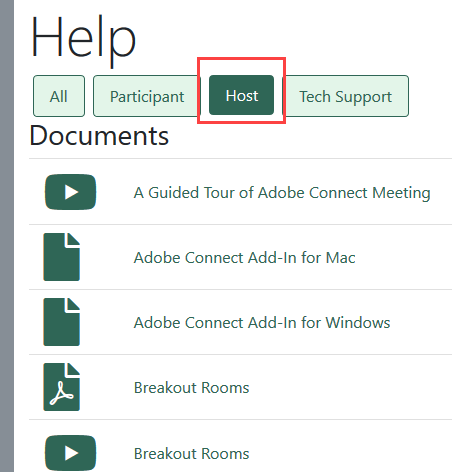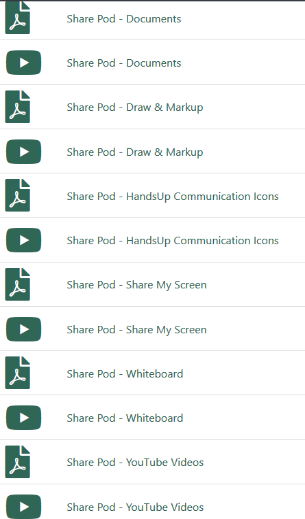 A System Check has been added to the Help page to check your computer and network connections for the best possible Adobe Connect experience and to test your audio before you join a session: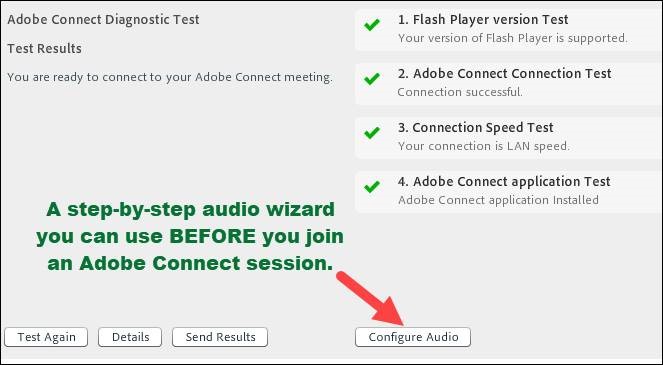 The YouTube viewer shows a YouTube video in the Share pod to participants attending by computer and mobile devices.
The third party creator has updated the viewer and YouTube videos are ready to play again!
How to set up YouTube viewer in a Share pod pdf video tutorial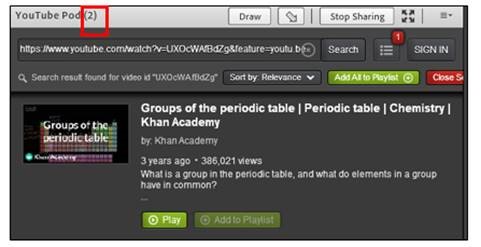 Beginning late-September 2019, we will be offering an additional live, online, and interactive training session: Adobe Connect Instructor Advanced.
We need an additional instructor session to delve into all the options of Adobe Connect breakout room and the robust capabilities of hosting your session from a tablet. This session will also look at host tools Prepare Mode and Presenter Only Area to give you more presentation options.
Check out our web conference training schedule and grow into additional Adobe Connect tools!
Under Development !
Single sign-on authentication allowing faculty and students to log into Adobe Connect using their institutional credentials

Shared content –to allow faculty to access content for multiple sessions of the same course or from one semester to the next

We welcome your feedback to [email protected]
Joni Sharkey, Stacey Ornatowski and Sarah Stocker
Learning Technologies
Technologies de l'apprentissage
Contact North I Contact Nord
1139, promenade Alloy Drive, Suite/bureau 104
Thunder Bay, Ontario P7B 6M8
Tel. I Tel. : (800) 561-2222 (option 2)
Fax I Téléc. : (807) 344-2390
Visit us on / Visitez-nous à : Contact North | Contact Nord, Facebook, Twitter, e-Channel, YouTube, LinkedIn
Contact North Helpdesk: 1-888-850-4628
e-CLASSES Adobe Connect Meeting login https://eclassesconnect.contactnorth.ca
Instructor Adobe Connect Meeting Web Conference Resources https://eclassesconnect.contactnorth.ca/help/host
e-CLASSES Instructor YouTube Channel https://www.youtube.com/channel/UCxlm8RLAiIOEWXi0ALri2zg/playlists
e-CLASSES Instructor Twitter @CNorth_eclasses
e-CLASSES Student Resources https://eclassesconnect.contactnorth.ca/help/participant
List of What's New Adobe Connect in pdf format