February 21, 2018
Read time: 4 mins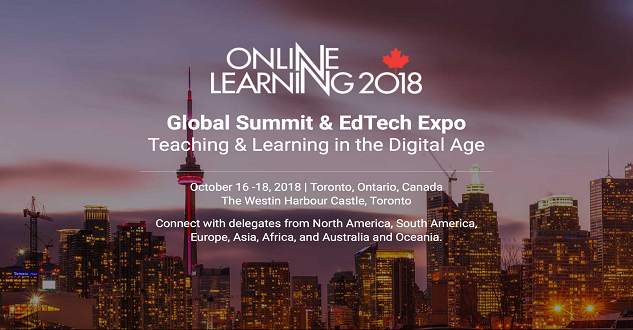 The Call for Proposals for ONLINE LEARNING 2018: Global Summit & EdTech Expo: Teaching & Learning in the Digital Age is now open.
October 16 - 18, 2018 at The Westin Harbour Castle, Toronto, Canada
Inspire and Learn from Your Peers, Exchange Best Practices Internationally and Expand Your Skills and Connections
Contact North | Contact Nord invites you to submit a proposal to share your knowledge, insights, experience and understanding about online, blended and technology-enhanced learning in higher education with colleagues, practitioners, online learning experts, government policy-makers, and private sector providers from around the world in Toronto, Canada, at ONLINE LEARNING 2018: Global Summit & EdTech Expo.
Prospective presenters with forward-thinking, novel and student-oriented innovations are encouraged to make a submission to the Call for Proposals in one or more of the five tracks flowing from ONLINE LEARNING 2018's theme of Teaching & Learning in the Digital Age:
1. Access, Openness and Flexibility
2. Course Design, Development and Delivery
3. Assessment, Analytics and Student Success
4. Technology, Innovation and Pedagogy
5. Faculty, Staff and Institutional Development
Click here for more information and to submit your proposal.
ONLINE LEARNING 2018 is hosted by Contact North | Contact Nord and organized by MediaEdge Communications Inc.
A Web-Based Expert System for Designing Instructional Scenarios from Université de Montréal, Québec

In response to the demand for more pedagogical and learning design support for instructors and faculty, Bruno Poellhuber, Associate Professor in the Faculty of Education at the Université de Montréal, and his colleagues developed an open source, web-based tool OAS (Outil d'Aide à la Scénarisation), to help construct teaching scenarios.

The OAS tool guides users in the design and preparation of teaching-learning contexts or scenarios, focusing on active pedagogical approaches and the selective use of information and communications technologies. The tool can be used for the design of a short teaching module, a workshop, a course or any other learning context.
EDU@2035

BIG SHIFTS ARE COMING! LOOKING BACK FROM 2035

Contact North | Contact Nord's special series of 11 Insight Reports on the latest topics and trends in online and distance learning from leading experts around the world are now available on teachonline.ca.

In this Insight Report, alternative scenarios for education in 2035 are proposed and analyzed by Richard Katz, with his multiple visions juxtaposed with an imagined day in the life of a student in 2035. Welcome to the world of possibility with its opportunities and pitfalls!
Updated! 115+ Leading Canadian Online Learning Researchers in Contact North | Contact Nord's Searchable Directory!

Contact North | Contact Nord added over 20 new researchers to its searchable directory.

Contact North | Contact Nord created this directory of online, blended and distance learning researchers from Canada's post-secondary and national research institutions. It features each researcher's interests and top 3 cited publications in the past 5 years.
MARK THE DATE!

OLC INNOVATE 2018

April 18-20 in Nashville, Tennessee

Make plans to join the Online Learning Consortium for the third annual OLC Innovate Conference, to be held

April 18-20, 2018 in Nashville, Tennessee.

This is a great opportunity to network with peers, learn from engaging keynotes and hands-on workshops, and explore solutions that will help shape the innovative classroom of tomorrow. Register now as Early Bird rates end February 21, 2018.

More information found here
| | | |
| --- | --- | --- |
| | | Most Popular Links on teachonline.ca |
Visit teachonline.ca today and see why more than 250,000 faculty and instructors, administrators, technology providers, and policy makers from across Ontario and around the world use the resources available from the portal.

Do you have colleagues who might be interested in receiving the Online Learning News? Join our mailing list.

Contact North | Contact Nord
1139 Alloy Drive, Suite 104
Thunder Bay, Ontario P7B 6M8
807-344-1616


[email protected]
Unsubscribe