Read time: 3 mins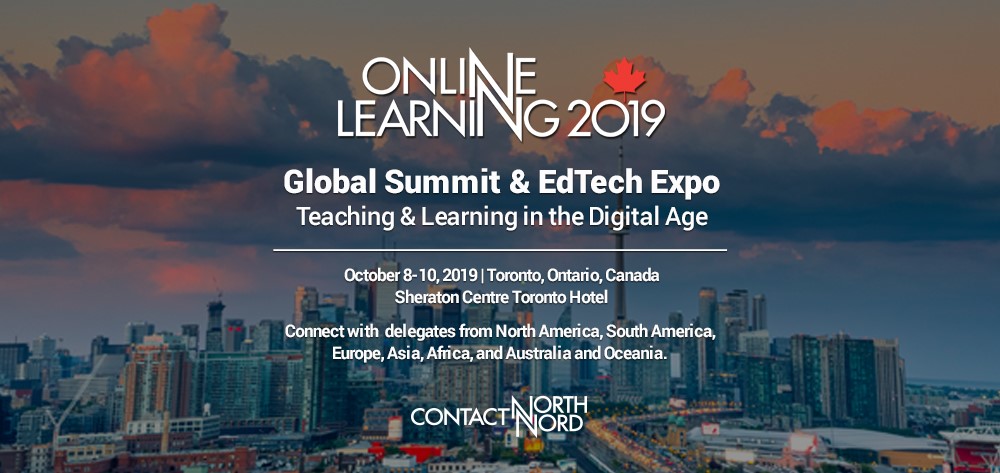 SUBMIT NOW to the Call for Proposals
ONLINE LEARNING 2019: Global Summit & EdTech Expo: Teaching & Learning in the Digital Age
October 8 - 10, 2019 at Sheraton Centre Toronto Hotel, Toronto, Canada
Inspire and Learn from Your Peers, Exchange Best Practices Internationally and Expand Your Skills and Connections
Contact North | Contact Nord invites you to submit a proposal to share your knowledge, insights, experience and understanding about online, blended and technology-enhanced learning in higher education with colleagues, practitioners, online learning experts, government policy-makers, and private sector providers from around the world in Toronto, Canada at ONLINE LEARNING 2019: Global Summit & EdTech Expo.
Under the global theme of "Future Ready", prospective presenters with forward-thinking, novel and student-oriented innovations are encouraged to make a submission to the Call for Proposals in one or more of the five tracks:
Access, Openness and Flexibility
Course Design, Development and Delivery
Assessment, Analytics and Student Success
Technology, Innovation and Pedagogy
Faculty, Staff and Institutional Development
Click here for more information and to submit your proposal.
Online registration is now available. Click here to take advantage of the Early bird registration fee.
ONLINE LEARNING 2019 is hosted by Contact North | Contact Nord and organized by MediaEdge Communications Inc.
An OER for Enhanced Student Learning at the University of Ottawa, Ontario

Explore and adapt the Open Educational Resource that 82% of students who used it describe as helpful to their learning. The OER, developed at the University of Ottawa in Ontario, helps students develop skills for self-regulated learning, deal with failure and focus their learning efforts.

Explore 21 Resources on Ensuring Student Success

Teaching online requires rethinking course design, incorporating strategies on pedagogy, student support, engagement and retention to ensure successful learning experiences for students.

Explore the resources below on:

How to Teach Online for Student Success

Check Contact North I Contact Nord's Picks of 122 Must-Read Books on Online Learning!

Must-Read Books on Online Learning features 122 reviews and links to a selection of books and articles about teaching and learning, blended learning, open education and technology enabled learning in the digital age.

These books can be explored under three headings:

Of interest to faculty members and instructors;
Of interest to instructional designers; and
Of interest to policy-makers and administrators.

Searchable Directory of 65+ Open Universities Worldwide

Throughout the world, more than 65 open universities provide open and equal access to education. Open universities do not require students to have any formal education or credentials to be admitted. They have a common commitment to open access to quality learning and student success.

Use the directory to search location, contact information, delivery modes, enrolment and more!

| | | |
| --- | --- | --- |
| | | Most Popular Resources on teachonline.ca |
Visit teachonline.ca today and see why more than 250,000 faculty and instructors, administrators, technology providers, and policy makers from across Ontario and around the world use the resources available from the portal.

Do you have colleagues who might be interested in receiving the Online Learning News? Join our mailing list.

Contact North | Contact Nord
1139 Alloy Drive, Suite 104
Thunder Bay, Ontario P7B 6M8
807-344-1616


[email protected]
Unsubscribe