Estimated time to read this post: 6 minutes
COVID-19 changed how faculty and instructors approach assessments. Fewer mid- and end of term examinations and more continuous assessment. Some moved from percentages and complex grading (F to A+) to pass/fail. Others moved from individual assessments to a combination of group, small team and individual assessment. There are more video, audio and multimedia assessments taking place and many instructors also engaged in peer-to-peer assessment, some for the first time.
A new era in assessment was emerging before COVID-19, in part enabled by technology, but also by a shift in the mind-set of what assessment is for. The big shift included seeing assessment as much more about enabling improved learning rather than simply assessing whether or not a student could recall and recount what was presented in class. This shift towards assessment for learning is supported by the widespread use of adaptive learning engines within many learning management systems.
Assessment is crucial to learning. Providing feedback, nudging learners to improve and suggesting additional work and activities that could strengthen their learning is key to assessment for learning. Grading against clear rubrics that reflect the objectives of the course and intentions of the program of study is key to the assessment of learning and to the task of quality assurance.
What will assessment look like in the future?
How might assessment change, given:
The emergence of technology-enabled tools for assessment;
New challenges about security and academic integrity; and
New ways of delivering learning?
A recent report from the United Kingdom's JISC, a membership based hub for technology innovation in higher education, suggests five principles, which should inform the conversation about the future of assessment.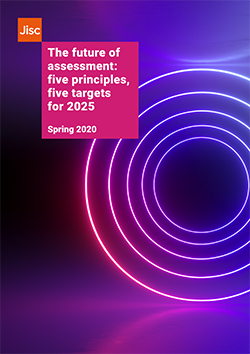 Contact North I Contact Nord reviews these principles and suggest how these might impact what each instructor does and how colleges and universities may have to review their current practices.
Principle 1: Authentic Assessment
COVID-19 and remote instruction made proctored mid-term and end-of-term examinations difficult, but not impossible. Some instructors persisted. But most shifted their assessment to continuous or project-based assessment, with some moving from grades to pass/fail. JISC suggests the real shift needs to be away from "standardized approaches" to assessment to more authentic assessment.
But what does this mean? For JISC, it means letting "the learner express themselves in ways which feel natural to them and prepares them for what they are going to do next".
Grant Wiggins (1998) suggested authentic assessment involves students providing responses to a challenge, a question, or a problem that:
IIs realistic.
Requires judgement and innovation.
Asks the student to "do" the subject.
Replicates or simulates the contexts in which adults are "tested" in the workplace, in civic life, and in personal life.
Assesses the student's ability to efficiently and effectively use a repertoire of knowledge and skill to negotiate a complex task.
Allows appropriate opportunities to rehearse, practice, consult resources, and get feedback on and refine performances and products.
Rather than produce an essay or thesis, students might develop a website, a video, a powerful multimedia presentation, an installation, a storyboard or a comic book.
Students may also work in small groups or teams on a problem that is authentic to them and choose how best to present their solution back to their peers and instructor but also to share it with those impacted by the problem.
In a recent class, students challenged with the same issue produced varied evidence of their learning: a 12-minute video and storyboard; a thing from the future coupled with an audio describing its components; a 32-slide PowerPoint presentation with audio and video; a written document; and a 3D photo gallery with sound track. All were assessed against the same rubric.
Principle 2: Accessible and Inclusive Assessment
If an assessment is not accessible and inclusive, it is not a good basis for assessment of learning.
All technology used by colleges and universities must be accessible by all students and staff, some of whom may have challenges with the way assessments are currently delivered. These challenges may relate to disability, gender, race or other factor. For example, it is established that multiple-choice examinations may discriminate by gender and certain assessments are more difficult for students with different religious backgrounds to respond to.
Universal design for learning (UDL) provides a framework and tools for creating accessible and inclusive assessment. One key feature of UDL is a need to provide different ways for students to express and share what they know and make very clear what the rubrics are for assessment: no surprises.
Principle 3: Appropriately Automated Assessment
A range of technologies and approaches were developed, which make creating, deploying, securing, marking and providing feedback much easier now than it was just five years ago. Whether these are Artificial Intelligent (AI)-enabled test item generators, automated marking and feedback systems or adaptive learning engines for learner support based on quiz scores, new supports for instructors and students are now available. Given how significant assessment is as a component of instructors' workloads, such developments are welcome.
The key is technology should be deployed in ways that enhance and improve the student experience, not just lower costs and reduce the time spent on marking. There is also a need to ensure the algorithms used in automated systems are free of bias.
Principle 4: Continuous Assessment
Colleges and universities have moved away from high stakes, high stress mid-term and end of term examinations in favour of continuous assessment. Given the challenge is to develop lifelong learning, constant feedback and learning activities by students better reflect both the workplace and the world in which we live. It reinforces the efficacy of teaching and learning and positions teaching as a formative process and a dialectic.
Principle 5: Secure Assessment
Colleges and universities are (as they have always been) concerned about academic misconduct and cheating in continuous assessment and students complain that, especially in group projects, not all students "pull their weight". These are not new problems and emerging technologies can provide resources to protect from these misdemeanours.
Principles in Action: The Future of Assessment
The Head of Assessment Futures at the Scottish Qualifications Authority in Glasgow, Martyn Ware, asks a simple question:
"Put ourselves in the position of young people who are having to take the assessments that we're offering at the moment and to really be honest about whether those assessments are serving these young people well. If they aren't, then what are we going to do about it? Do we still think it's going to be OK in ten years' time?"
He suggests vice-presidents, academic and provosts need to see assessment as a major focus for educational transformation aimed at increasing its value for learning as well as improving the experience of learning and overall quality of qualifications. Students support this view, at least in Scotland.
COVID-19 stimulated new thinking and experience of different forms of assessment, and may be the beginning of new thinking about what is assessed, when and how. It is time for a renaissance in assessment.
The key features of this renaissance are likely to include five key shifts:
A shift from an information-based assessment, "can you correctly recollect the information shared in class and in the textbook?", to assessment based on knowledge in use such as "show me you know what to do with the information shared in class and in the textbook when given a relevant problem or challenge".
A shift from multiple choice and written assessments to a variety of assessments, such as oral presentations, video-based assessment, or producing an artefact that demonstrates mastery of knowledge and skill.
A shift from classroom-based assessment to assessment in the community, workplace or natural setting.
A shift towards assessment on demand, "I am ready for my assessment now!"
A shift from instructor marked assessments to a combination of instructor, peer and technology marking.
The underlying shift is towards more authentic assessment as described above.
This will not happen overnight, but the shifts are discernable. The five principles documented by JISC and briefly summarized here support the change in assessment practices.
Tools and Trends