Read time: 4 mins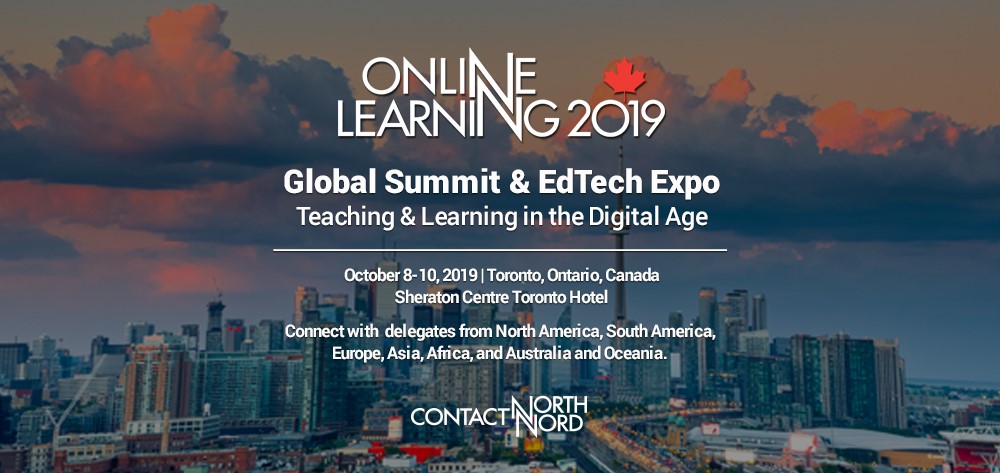 The Call for Proposals for ONLINE LEARNING 2019: Global Summit & EdTech Expo: Teaching & Learning in the Digital Age is now open.
October 8 - 10, 2019 at Sheraton Centre Toronto Hotel, Toronto, Canada
Inspire and Learn from Your Peers, Exchange Best Practices Internationally and Expand Your Skills and Connections
Contact North | Contact Nord invites you to submit a proposal to share your knowledge, insights, experience and understanding about online, blended and technology-enhanced learning in higher education with colleagues, practitioners, online learning experts, government policy-makers, and private sector providers from around the world in Toronto, Canada at ONLINE LEARNING 2019: Global Summit & EdTech Expo.
Prospective presenters with forward-thinking, novel and student-oriented innovations are encouraged to make a submission to the Call for Proposals in one or more of the five tracks flowing from ONLINE LEARNING 2019's theme of Teaching & Learning in the Digital Age:
Access, Openness and Flexibility
Course Design, Development and Delivery
Assessment, Analytics and Student Success
Technology, Innovation and Pedagogy
Faculty, Staff and Institutional Development
Click here for more information and to submit your proposal.
Online registration is now available. Click here to take advantage of the early bird registration fee.
ONLINE LEARNING 2019 is hosted by Contact North | Contact Nord and organized by MediaEdge Communications Inc.
Supporting Faculty and Students for Success at Universities in Germany and England

Learn how the Media Centre at Technical University Dresden, Germany combines multiple service areas in projects, such as: developing a learning platform used in 20 universities in the state of Saxony; offering extensive training and support to lecturers and professors; and undertaking research on topics such as the use of digital mobile technology for workplace learning.

Explore two models that integrate MOOCs into micro-credentials at the University of Leeds in England, one for undergraduate students and the other for graduate learners. In addition, a Pathways to Success induction model supports student beginning online postgraduate degree programs, with skills in community building, navigating campus services and using online tools.

2018 Top Ten Most Popular Resources on teachonline.ca

Read the most popular articles and review the most popular directories of 2018 on teachonline.ca.

Updated!

List of Education and Technology Conferences from Around the World

The latest edition of the Education and Technology Conferences by Contact North I Contact Nord Research Associate, Clayton R. Wright, includes conferences in 2019 and 2020. The directory can be sorted by conference title, date, country, organizer, and venue as well as searched by keywords.

The sort and search options are unique features offered by Contact North I Contact Nord to enhance your access to the more than 1,700 conferences listed in this directory.
Visit teachonline.ca today and see why more than 250,000 faculty and instructors, administrators, technology providers, and policy makers from across Ontario and around the world use the resources available from the portal.

Do you have colleagues who might be interested in receiving the Online Learning News? Join our mailing list.

Contact North | Contact Nord
1139 Alloy Drive, Suite 104
Thunder Bay, Ontario P7B 6M8
807-344-1616


[email protected]
Unsubscribe