Read time: 4 mins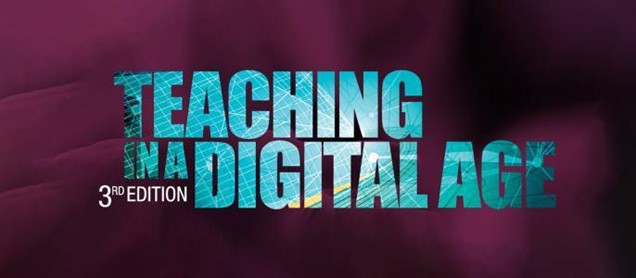 Teaching in a Digital Age:
Guidelines for designing teaching and learning (Third Edition)
Viewed more than 1 million times since its launch in 2015, Dr. Tony Bates' Teaching in a Digital Age is now an even more valuable resource for faculty, instructors, instructional designers and teaching professionals.
The newly released third edition of Teaching in a Digital Age is a free, comprehensive, practical resource with advice and strategies for online learning. It includes new sections on:
Successes and failures arising from the emergency pivot to remote learning during the COVID-19 pandemic

Open pedagogy

Micro-credentials

Difference between synchronous and asynchronous learning

Emerging technologies to enhance learning and teaching
Free Contact North | Contact Nord Webinar

Value for Money:
Should Online Education be Cheaper?

Thursday, December 8, 2022
11:00 a.m.- 12:00 p.m. EST

Register now!

Dr. Kyungmee Lee, Senior Lecturer, Department of Educational Research at Lancaster University (UK) and Dr. Dietmar Kennepohl, Professor of Chemistry at Athabasca University (Canada) explore the value-for-money topic by asking "Should online education be cheaper?"

Come away with a better understanding of:

The complex meaning of online education being "cheap"
Various perspectives on whether online education should be cheaper than face-to-face
Key issues, including academic, administrative and political
Key terms such as value, money and cost
Dr. Tony Bates' Blog:
Online Learning and Distance Education

In this blog post, Contact North I Contact Nord Research Associate Dr. Tony Bates addresses the need for consistent definitions for the various delivery methods and the need for quality assurance to be applied to all modes of teaching.

Read Dr. Bates' blog post:
Leaders & Legends of Online Learning

Dr. Mark Nichols' Podcast

Leaders & Legends of Online Learning shares first-person perspectives from online learning experts that inform and inspire. Each interview lasts about 30 minutes, and links to the guest's work and profile.

In this episode, Open Polytechnic of New Zealand Executive Director Dr. Mark Nichols chats with Dr. Kate Bowles, Associate Dean International at the University of Wollongong, Australia, about the "vendoring" of online education.
This Week's Must-Read Book
on Online Learning

Open Distance Learning Fundamentals, Developments and Modelling

By Oleg Zaikin (2023)

As befits a technical publisher, this is more about modelling than teaching. Oleg Zaikin s a computer scientist and has used his knowledge and skill to explore five distinct models of open and distance learning (ODL): (a) ontological (b) motivational (c) collaborative (d) incentive and (e) simulation. He aims to better understand how analytics can be effectively deployed in each of these different conditions.
Contact North I Contact Nord's Searchable Directory of Selected Journals in Online and Distance Learning

Journals play an essential role in online and distance learning for sharing the latest in research, innovation, theory, practices and events. Educators find ideas and connections, building a collective knowledge base that advances teaching, learning management and student success.
Upcoming Events in Online Learning Education

2022 Innovations in Education Conference (IEC)

McMaster University, Ontario, Canada

Thursday, December 8, 2022(virtual)
Friday, December 9, 2022 (in-person)

The conference theme explores the past, present, and future of teaching and learning. Presentations, workshops and panel discussions explore the practices that have been sustained over time through innovations and technology, practices that have been developed or adapted through times of individual and/or global crisis, how research on teaching and learning has evolved and supported new approaches, and much more.
About Contact North | Contact Nord

As Ontario's community-based bilingual distance education and training network, Contact North | Contact Nord helps underserved residents in 1,300 small, rural, remote, Indigenous and Francophone communities access education and training without leaving their communities.
| | | |
| --- | --- | --- |
| | | Most Popular Resources on teachonline.ca |
Visit teachonline.ca today and see why more than 250,000 faculty and instructors, administrators, technology providers, and policymakers from across Ontario and around the world use the resources available from the portal.

Do you have colleagues who might be interested in receiving the Online Learning News? Join our mailing list.

Contact North | Contact Nord
1139 Alloy Drive, Suite 104
Thunder Bay, Ontario P7B 6M8
807-344-1616


[email protected]
Unsubscribe