Read time: 3 mins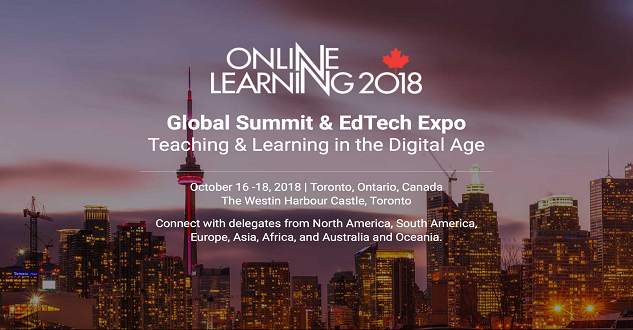 ACCEPTED PRESENTATIONS FOR
ONLINE LEARNING 2018 NOW AVAILABLE!
View details on the 160 accepted presentations to date, representing 500 authors and presenters, for ONLINE LEARNING 2018, including information on each author/presenter, co-presenter, presentation title, program track and the presentation's abstract.
Early bird registration fee is still available until September 17, 2018.
Visit http://globalonlinelearningsummit.ca for more information and to register.
ONLINE LEARNING 2018 is hosted by Contact North | Contact Nord and organized by MediaEdge Communications Inc.
Discover the New Ideas, Resources and Pedagogy Being Developed at The Centre for Continuing Education (CCE), McMaster University in Hamilton, Ontario

Learn about how ideas of diversity and inclusiveness are incorporated into a blended learning program in Leadership in Community Engagement, designed for working professionals. Experiential learning and intercultural practices underlie the pedagogy, supporting critical thinking and sharing of perspectives.

Explore how CCE increased its focus on online learning, with more instructional design support for instructors, integration of real life projects into online and a shift to leaner, less detailed course sites which feature instructors offering love teaching.

Meeting a growing need in the community, CCE is designing a blended learning course to inform and support adult caregivers of older adults. Besides offering content on the human body, health care system and self-care, the course aims to encourage development of connections among caregivers.

Searchable Directory of 65+ Open Universities Worldwide

Throughout the world, more than 65 open universities provide open and equal access to education. Open universities do not require any formal education or credentials to be admitted. They have a common commitment to open access to quality learning and student success.

Use the directory to search location, contact information, delivery modes, enrolment and more!

NEW ADDITIONS!

Must-Read Books on Online Learning features books and articles of interest to those involved in the expansion and improvement of online learning.

For Faculty & Instructors

Assessment Strategies for Online Learning: Engagement and Authenticity

For Instructional Designers

Measurements in Distance Education - A Compendium of Instruments, Scales, and Measures for Evaluating Online Learning

For Policy Makers and Administrators

Best Practices in Planning Strategically for Online Educational Programs

Learning to Learn Online

Starts September 24, 2018

Tell Your Students about the FREE Five-Week MOOC by Athabasca University

Get the tools needed to master learning online. Analyze different types of learning environments, explore and employ effective online communication tools and strategies and describe the role of an online learning community.

Certificates of completion are available for participants who pass all five module quizzes.

Visit http://www.ltlo.ca/ for more information and to register.

Now Open!

Technology Enabled Seminar & Showcase (TESS) 2018
Call for Presentations

November 12-13, 2018
Toronto, Ontario

eCampusOntario is pleased to invite you to submit a presentation proposal for TESS 2018. Topics will align with one or more of the six Empowered Educator conference tracks: Curator, Collaborator, Teacher for Learning, Experimenter, Scholar and Technologist.

Learn more about this call for presentations, including how you can submit yours, here.

| | | |
| --- | --- | --- |
| | | Most Popular Links on teachonline.ca |
Visit teachonline.ca today and see why more than 250,000 faculty and instructors, administrators, technology providers, and policy makers from across Ontario and around the world use the resources available from the portal.

Do you have colleagues who might be interested in receiving the Online Learning News? Join our mailing list.

Contact North | Contact Nord
1139 Alloy Drive, Suite 104
Thunder Bay, Ontario P7B 6M8
807-344-1616


[email protected]
Unsubscribe