Submitted on Tue, 2013-05-14 07:01
The Northern Ontario School of Medicine (NOSM) opened in 2005 as a joint initiative of Lakehead University in Thunder Bay and Laurentian University in Sudbury. The educational philosophy of NOSM combines distributed learning and community engagement, emphasizing both face-to-face teaching and the use of technology to span the more than 1,000 kilometres between the campuses. Linking together students and faculty, more than 70 clinical education sites span 800,000 square kilometres from Huntsville in the south to the Manitoba border in the west and James Bay in the north.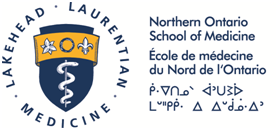 NOSM's distributed model relies on a sound infrastructure for information and communication technology to reach the widely dispersed students and to maintain essential partnerships with communities, individuals, and organizations across Northern Ontario. For example, students taking the four-year Undergraduate Medical Education degree have one- or two- month placements in Aboriginal communities and rural and remote communities in the first two years of the program and spend the final two years in clinical practice placements throughout the region. Students learn and work in large and small hospitals, health services, family practices, and similar community settings.
Dr. Rachel Ellaway, NOSM's Assistant Dean, Curriculum and Planning, Undergraduate Medical Education describes the Northern Ontario School of Medicine as a "cloud medical school," facilitating learning, communication, and collaboration between students and faculty wherever they are.
Innovation
The multi-faceted teaching, learning, and communication approach developed and continually enhanced by NOSM responds to the challenges of reaching students, faculty, and partners spread across such a vast territory, while providing equitable access to learning and collaborative opportunities.
Seamless Network: Central to teaching, learning, and communication at NOSM is the creation of a seamless network that allows students, faculty, and partners to connect with the School and each other using a wide range of technologies. For example, Omair Quraishi, NOSM's Chief Information Officer points out that to support Undergraduate Medical Education, the School runs 2,400 videoconferences each year, along with an average of 11,000 hours a month of audioconferencing activity.
A high demand for network reliability and speed led NOSM to develop its own network, starting with a single service provider and one high-speed pipe among the five buildings at the East Campus at Laurentian University in Sudbury and the West Campus at Lakehead University in Thunder Bay, linked to Ontario Telemedicine Network videoconferencing sites and the Contact North | Contact Nord audioconferencing bridge.
The next stage was the creation of a seamless network to allow students and faculty to connect using their own devices at their own convenience, to provide on-demand collaboration, file sharing, meeting space, web conferencing and videoconferencing applications. This network can provide flexible and wide-ranging access through linking:
14 technology-equipped rooms at NOSM's West Campus at Lakehead University in Thunder Bay
13 technology-equipped rooms at NOSM's East Campus at Laurentian University in Sudbury
Up to 2,000 computers used by students, faculty, and partners
Up to 2,000 mobile devices used by students, faculty, and partners
250 video phones (VOIPS) used by faculty at NOSM
The videoconferencing capacity of 70 + sites of the Ontario Telemedicine Network
The audioconferencing bridge of Contact North | Contact Nord
Through this configuration, students, faculty, and partners can meet virtually, using whichever technologies are accessible to them, at their own time and from locations throughout the region.
Mobile Technologies: Students in Undergraduate Medical Education can opt in to a program where they pay a fee to be supplied with technology – a laptop and an iPad to use in the first and second years of the program and a replacement laptop and iPhone for the third and fourth years when they are on full-time clinical placements. However, learners may choose to use their own devices and to meet this challenge NOSM is developing a device-agnostic mobile strategy.
Simulation: As part of its commitment to distributed and community engaged learning, NOSM makes regular use of a range of different simulation modalities to provide students with hands-on practical learning in controlled environments. It has also been involved in a number of projects creating simulations for medical students, not only in Ontario but also around the world. For example, working with Canadian and international partners and using Open Labyrinth, a web-based system for creating and running virtual patient scenarios, over 60 virtual patient scenarios have been developed and made available as open educational resources under Creative Commons licensing along with the software. The School's experience with simulation is detailed in a recent publication, Expanding Simulation: Adventures in simulation-based health professional education in Northern Ontario.
Digital Professionalism: The goal at NOSM is to graduate patient-centred physicians contributing to their communities – with their work enabled and enhanced by being technologically literate and connected. To support this goal, digital professionalism is addressed in both the undergraduate and graduate medical curriculum, built around a statement of ten digital professionalism principles and heuristics developed by Dr. Ellaway and colleagues. This digital professionalism framework has application for students in any health professional program.
Outcomes and Benefits
Robust technology is essential to support learning and collaboration at a distance; the new seamless network allows access through multiple channels as well as the option to 'drop down' to another form of communication if one form is not working (e.g. from video to audioconferencing).
The seamless network allows NOSM's East and West campuses to function as one. For example, a typical lecture is given by a single professor connected to multiple classrooms across both campuses. The student experience is singular, not in any way fragmented by distance.
Using the seamless network, students are able to connect from their own devices and set up support and project groups to collaborate at times that suit them. The demand for face-to-face meeting rooms is reduced as access is available through devices in offices and at home.
Research has shown that most first- and second-year students still prefer to use their laptop rather than the iPad as their primary learning device. However, in the final two years of their undergraduate training, mobile technology is becoming increasingly important as students use it in their practice settings for communication and research on symptoms and treatments.
Potential
NOSM is continuing to explore its use of technology to support its vision of 'Innovative education and research for a healthier north.'
NOSM's ability to fulfill its mandate is dependent on the seamless integration of technology into all facets of the organization. The challenge is to ensure that technology augments but never dominates NOSM's teaching, learning and research.
For Further Information
Rachel Ellaway
Assistant Dean and Professor
Curriculum and Planning
Undergraduate Medical Education
Northern Ontario School of Medicine
[email protected]
Omair Quraishi
Chief Information Officer
Technology and Information Management Support
Northern Ontario School of Medicine
[email protected]
Province
Ontario
Country