Submitted on Fri, 2018-05-25 22:42
Opportunity
It is no secret students struggle to learn organic chemistry, including complex nomenclature, symbolism, and core concepts. Recognizing a lack of open educational resources to help students interactively learn and practice organic chemistry concepts online, especially in French, Alison Flynn, Associate Professor, Department of Chemistry and Biomolecular Sciences, University of Ottawa, Canada collaborated with the university's Centre for Innovative Pedagogies and Digital Learning of the Teaching and Learning Support Service to create the online tools OrgChem101.com and Chimieorg101.
Both English and French OrgChem101.com sites were publicly available in Fall 2016 and aim to close the gap in students' understanding of organic chemistry concepts.
Funding for the project was received from Social Sciences and Humanities Research Council of Canada, Fonds pour le développement de matériel pédagogique en français, Université d'Ottawa and the Chemistry Education Fund, Canadian Society for Chemistry.
Innovation
About OrgChem101: OrgChem101 is an online, interactive, bilingual website that helps students learn organic chemistry's nomenclature, symbolism, and core concepts, as well as improve their metacognitive skills (Figure 1). OrgChem101 offers three modules: organic nomenclature, organic mechanisms, and acid–base reactions.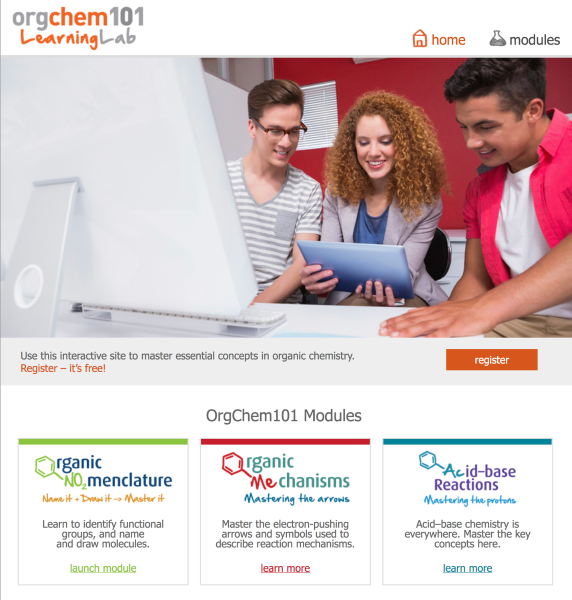 The Modules: The nomenclature module, also known as Nomenclature101 (Figure 2), is the first module created and offers a bank of almost 1,000 questions focused on helping students achieve three nomenclature learning outcomes. Students select various options that lead to a 10-question quiz. A study offering nomenclature workshops to students found that Nomenclature101 led to significant learning gains for students who used the module either independently or with guidance. Success with Nomenclature101 prompted the creation of the Organic Reaction Mechanisms Module and the Acid–Base Reactions module.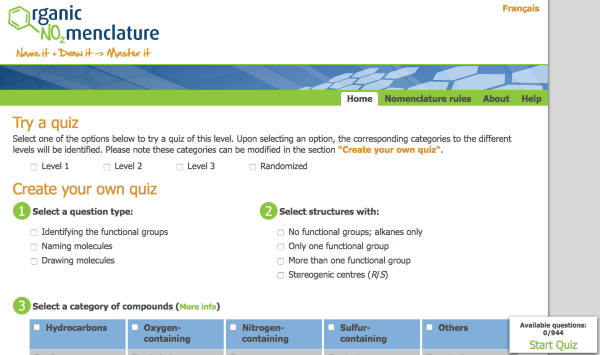 The Organic Reaction Mechanisms module comprises four learning outcomes to help students become proficient in organic chemistry symbolism and the Acid–Base Reactions module focuses on building knowledge and skills of acid–base chemistry and the analysis of more advanced reactions. These two additional modules provide additional guidance and opportunities for metacognitive skill development, while at the same time allowing students to determine their learning path.
Before accessing the intended learning outcomes, students complete a metacognition exercise to rate their ability to answer questions tied to each learning outcome (Figure 3) followed by a pre-test to compare how well they performed to how well they predicted they would perform. The metacognition exercise aims to help students identify gaps in their understanding of organic reaction mechanisms before starting the module.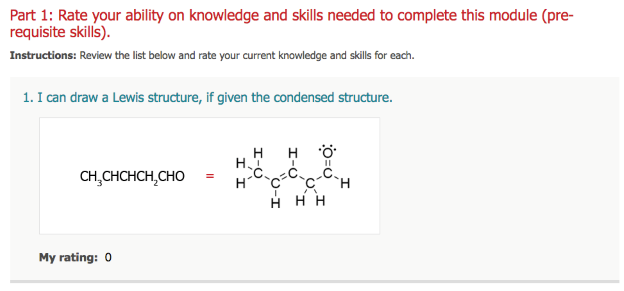 Students are then able to learn organic chemistry concepts through interactive and engaging video tutorials, followed by interactive questions aligned with each learning outcome with feedback. Students are also able to compare their incorrect answers to the correct answer. The module wraps up with a self-assessment and a post-test, all aligned with the module's intended learning outcomes.
Outcomes and Benefits
OrgChem101 is an interactive and guided learning tool allowing students to learn at their own pace and receive accurate feedback in real-time in both English and French. Not only can students learn organic chemistry concepts, they also improve their metacognitive skills. Students identify their strengths and weaknesses in understanding organic chemistry concepts.
Additionally, OrgChem101 is easily accessible as an open educational resource with a Creative Commons, Non-Commercial, Share-Alike license.
A pilot study investigated students' learning and experiences using the Organic Reaction Mechanisms module and revealed that overall, students found the module easy to use and said they would use it again based on questionnaire responses. Students also stated they believed the module would lead to an increase in their grade in organic chemistry. According the students' feedback, the best features of the organic reaction mechanisms module include the practice problems, the metacognitive exercise, the videos tutorials and video questions, the answer solutions, and the interactive components. The pilot study also found students demonstrate an increase in metacognitive skill after using the Organic Reaction Mechanisms module.
Challenges and Enhancements
Ongoing maintenance and modernization of the learning tool could pose a challenge, as project funding was received for development and implementation only.
Potential
Future studies may focus on identifying factors that increase professors' willingness to adopt OrgChem101, implement it in their classrooms, and promote it to their students. Research will also continue to focus on the effectiveness of OrgChem101. Currently, eye-tracking experiments are being performed to further explore how participants use the website.
For Further Information
Alison Flynn
Associate Professor
Chair in University Teaching
Department of Chemistry and Biomolecular Sciences
University of Ottawa
Ottawa, Ontario
@alisonbflynn
[email protected]
Flynnresearchgroup.com
Rebecca Visser
B.Sc. Biomedical Science
University of Ottawa
Ottawa, Ontario
[email protected]
Province
Ontario
Country