Submitted on Wed, 2016-10-05 15:05
Opportunity
Niagara College's Canadian Food and Wine Institute is located in the lush wine region of Niagara-on-the-Lake in Ontario. When instructors at the Institute expressed the need for a tool to provide more meaningful feedback on student learning in face-to-face lab environments, the director of the college's Centre for Academic Excellence had a serendipitous meeting with the founder of Sesame, an app designed to meet this very need.

Innovation
Sesame is a digital platform that, when loaded on an iPad or iPhone, allows instructors to take photographs and videos of student work and provide personalized feedback in real time. When Sesame came to the attention of Craig Youdale, Dean of Niagara College's Canadian Food and Wine Institute (CFWI), he and Associate Dean Gary Torraville introduced it to several professors who teach practical lab-based components of CFWI baking and culinary programs.
Associate Dean Torraville recalls the instructors' "overwhelming interest" in piloting the Sesame program to capture skills-based learning. He gives special credit for the implementation and early adoption of Sesame to the additional efforts by professors including Chef Keith Ellis and Chef Avi Hollo to use the tool in their classrooms. These instructors worked closely with Sesame founder Ian Tao and his support team based in Waterloo, Ontario, who provided comprehensive on-site training and customized their program to suit the specific needs of the CFWI. The Dean and Associate Dean committed to providing an iPad for all faculty members piloting the Sesame tool in their lab environments. "At that point," says Associate Dean Torraville, "students became the most influential change agents. They quickly embraced this form of assessment and encouraged other faculty to use it as well."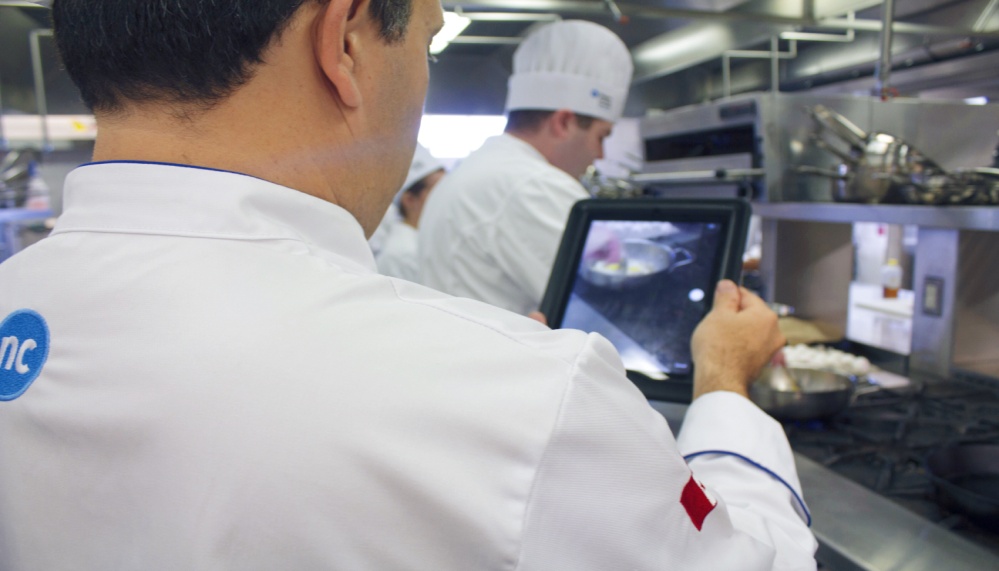 Chef Professor Avi Hollo uses the Sesame app on an iPad to record students performing culinary exercises such as assembling a terrine or deboning a chicken. The captured visuals are then packaged alongside rubrics and evaluation criteria he established to assist in his assessment, which can be done on the spot or at a later time, perhaps after he has reviewed the techniques and creations of the entire class. Students are also encouraged to take photos of their work and post it with comments using their mobile devices.
When assessing lab work, Chef Professor Hollo can select a single student or a group of students who worked as a team. Either way, only the students identified on the assessment are able to view the visuals and comments, which are automatically uploaded to their private ePortfolios.
Sesame is now used widely in the CFWI's Culinary Skills – Chef Training, and Baking and Pastry Arts programs. Other programs such as Brewmaster and Brewery Operations Management, and Winery and Viticulture Technician also incorporate Sesame. Both full-time and part-time faculty receive an iPad to encourage a broad-based approach to assessment that maintains continuity and consistency.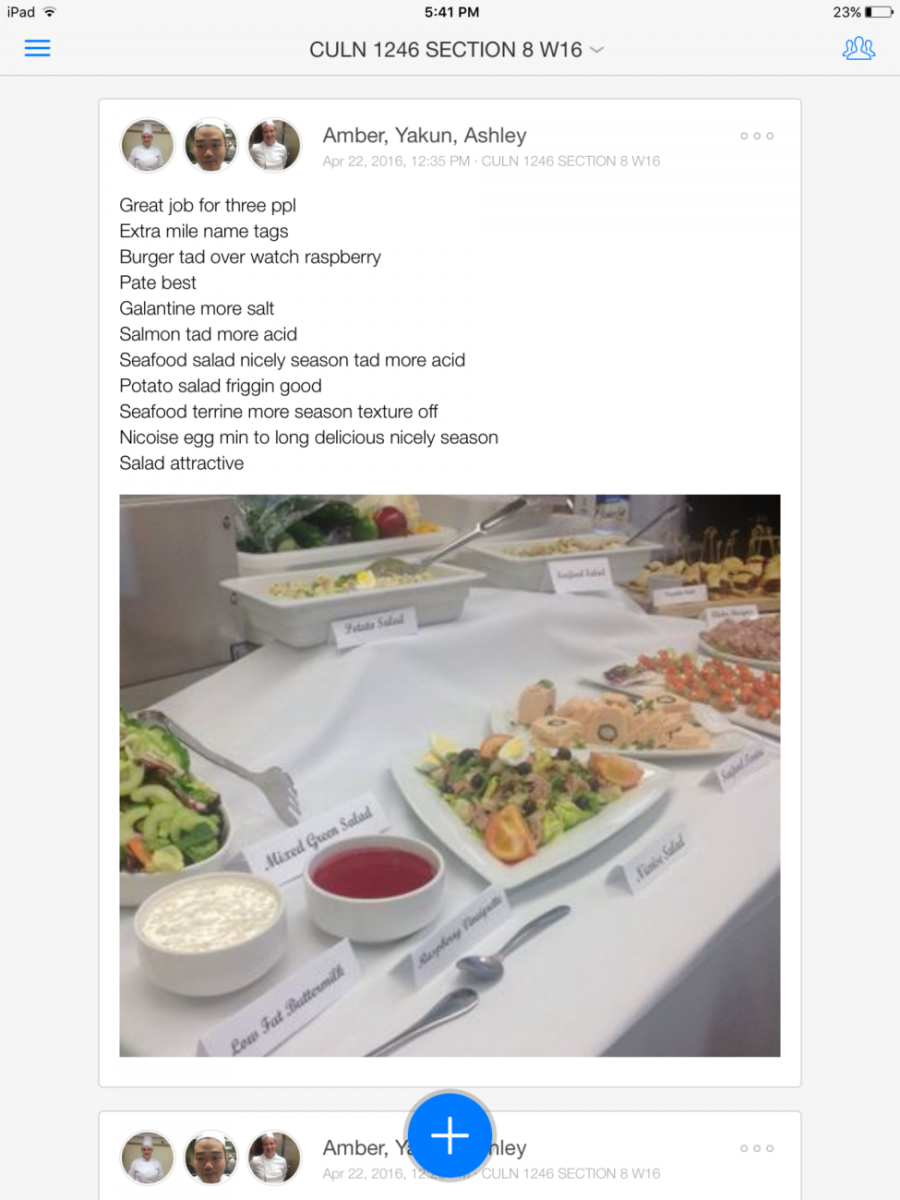 Outcomes and Benefits
Chef Professor Hollo notes a definite change in his lab since implementing the Sesame pilot program. Previously, only students' completed culinary creations were evaluated, and Chef Professor Hollo appreciates the ability to now capture and assess the process, as well as the product. He still provides verbal feedback and encouragement as students work, but the additional visual documentation and commentary provided through Sesame assists students in understanding their progress, while the embedded rubric assists him in providing consistent feedback. Students are more engaged in the evaluation process with a better understanding of the marks received.
The Sesame assessments provide students with a visual diary of their learning, which they can review, along with their instructor's comments, anywhere and anytime, but Chef Professor Hollo values them for more than enhanced feedback. The assessments serve as additional reinforcement for his students' future employment prospects; added to professional portfolios, they provide visual documentation of students' technique and production skills.
In 10 years of instructing, Chef Professor Hollo has used numerous evaluation tools and techniques. He considers Sesame to be the best app he has used, for himself and his students, and notes most of his faculty colleagues using Sesame embraced it for its simplicity of use. "At first, it was an adjustment to go around with the iPad, but the app is user-friendly and the learning curve was shallow. Most of our students love the app and its visual nature, and because the majority of them are visual and tactile learners, this app really speaks to them."
Challenges and Enhancements
According to Associate Dean Torraville, there were several challenges to overcome before introducing the Sesame tool in the CFWI culinary labs. "The biggest issue was Internet connectivity. We worked with our IT department to install and update our wireless capacity which provided a stable and consistent connection for Sesame to work effectively. Another challenge was the significant cost of providing the required iPads to our faculty." Dean Youdale and Associate Dean Torraville believed the Sesame platform was of such significant value to students and faculty that they invested in the required technology to ensure it could be piloted and implemented effectively.
Dr. Natasha Hannon, Manager of Educational Development at Niagara College, appreciated the ongoing collaboration with the technology developer. "The faculty using Sesame have been in consistent and direct contact with the Sesame support team whenever they have encountered technical difficulties and situations where technical constraints limited their use of the tool. Many of these exchanges have resulted in upgrades to the software itself, which has benefitted both our faculty and the Sesame product."
As a technical teacher who uses the app in a laboratory environment, Chef Professor Hollo's needs are specific. He agrees Sesame's staff is "extremely efficient" in responding not only to faculty, but also to students who have issues. "As we started using the app, I had numerous discussions with Sesame founder Ian Tao about the inefficiencies that I encountered. In each case, the problem was either addressed in the new version of the program or at our meetings."
Chef Professor Hollo reports that initially, there were instances when students had difficulty accessing the app on their mobile devices, but Sesame technical support staff were efficient in solving these problems. He is pleased the newest version of Sesame is compatible with Android devices.
Potential
Although satisfied with the benefits of the Sesame program, Chef Professor Hollo looks forward to additional technical tools to benefit his students. "In our field, we always struggle to give enough repetition of motor skills to our students. I have always imagined how beneficial it would be to develop psychomotor skills with technology. Pilots use flight simulators and other operations are practiced with precision on computers to develop motor skills. If there were accessible programs that could improve knife skills and butchery skills, we could address the problem of not enough repetition to master a skill set."
For Further Information
Dr. Natasha Hannon
Manager, Educational Development
Niagara College
[email protected]
Chef Professor Avi Hollo
Coordinator of Culinary Programs
Canadian Food and Wine Institute, Niagara College
[email protected]
Canadian Food and Wine Institute at Niagara College
Niagara College, Centre for Academic Excellence
Province
Ontario
Country