Submitted on Tue, 2018-03-06 22:10
Opportunity
The Open University of Catalonia (UOC) in Barcelona, Spain is an online university with over 54,000 students in more than 100 bachelor, master's and doctorial programs, in addition to almost 300 diplomas and specialist courses.
To better prepare graduates for the labour market and professional environments, UOC is adopting an online program and course design model built around developing competencies and demonstrating learning outcomes through completing challenge activities.
As well as linking student outcomes more closely to demands of the 21st century workplace, the course redesign project has a number of additional educational and design goals:
Encourage and support students with clearer goals, directions, time allotments and explanations of requirements to increase success and reduce the dropout rate;
Use the European Credit Transfer and Accumulation System (ECTS) to allocate credit hours to each designated course "component". As each ECTS credit is equivalent to 25 hours of work by the students, the assignment of 1, 1½ or 2 credits to each component clearly indicates the time students are expected to spend on the associated learning activities;
Develop a course design that is attractive, easy to use, and appealing, with a broad mix of resources and media; and
Use online content that is more accessible, flexible, and engaging, as well as educationally effective – moving away from large textbooks.
Innovation
The Bologna Framework established a common language for qualification descriptions that has been adopted by 50 European countries to ensure compatibility and transferability in standards among European universities. More detailed competencies and learning outcomes are developed at UOC from this broad Framework for each program, and then, for each course. In this way, graduates have access to content and activities linked to every defined competency in their degree or diploma programs.
Building from this foundation, the new, challenge-based UOC model involves several key components.
Challenges: The course is divided into challenges – presenting situations from real life, case studies or applications of knowledge to be gained. Each challenge is assigned a number of credits so each course may contain three to five challenges for a six-credit course. As mentioned above, each credit pertains to 25 hours of estimated student activity. Each challenge is explained, often with a short video from the professor.
Competencies: For each challenge, the associated competencies and learning results are clearly stated. One competency may have numerous learning results.
Continuous Assessment Activities: The activities student complete to gain the competencies are the core of each course and subject to continuous assessment. All continuous assessment activities are part of a specific challenge. Examples of the wide variety of activities included in the challenges include:
Participation in online discussions;
Summary and comparison of articles and/or videos with differing opinions;
Preparation of a journalistic or academic article;
Recommendation of a solution to a real-life situation; and
Case studies and reflections.
The competency-based assessment criteria are shared with students. UOC always includes continual assessment as part of the final marks; this new model accelerates the move away from final exams.
Learning Resources: Students receive content, tools and resources to use for their learning. These may have been developed at UOC, by commercial suppliers or be adaptations of OER. Faculty provide students with online guidance on use of the resource to achieve its specific learning results; in some cases, the same resource is re-used to support other competencies in the same program or course. The learning resources are arranged on the Activity page (see sample below), with the expected time for the use of each resource listed and colour coding to indicate essential and less essential content. Resources are available in different formats for accessibility and to suit student learning preferences.
Roger Griset, Project Manager and Trend Analyst in eLearn Center at UOC, stresses that the design of the course pages is important – they have to be easily accessible and attractive. Courses are divided into smaller parts, moving away from the large textbook concept.
Assessment: The final assessment collects the results of the student's performance in all the competency-based activities.
Dr. Xavier Mas, Specialist in Digital Education in the eLearn Center at UOC, characterizes the development process as requiring "a lot of imagination, not just good pedagogical skills, to make the multiple connections among the competencies, challenges, activities, resources and, most importantly, the students."
The faculty, who adopt the challenge-based learning approach, design their own courses with support and advice from the eLearn Center in working sessions that develop the preliminary course design and begin the process of finding or developing and acquiring rights for resources. UOC has over 260 faculty who are responsible for subject design and almost 3,000 who are involved in teaching.
The eLearn Center staff work with the design and format of the courses, applying their skills with visual media so pages are not text heavy, but readily convey key messages. The professor prepares the content and text on why content is important, what they learn from it and how to apply it to the assigned activity.
The page below is an interface page for a course, showing the challenge topic, with links to professor's explanation, the activity to be completed and affiliated resources, with expected time for each and importance of resources indicted by deeper coloured background.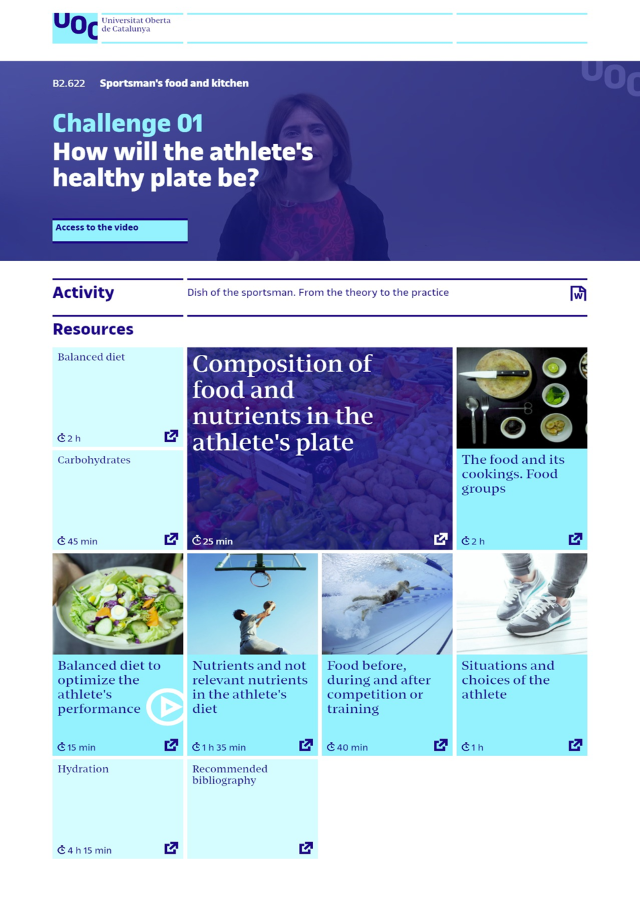 The following page highlights one of the resources, with the explanation of its contribution to learning and its formal choices.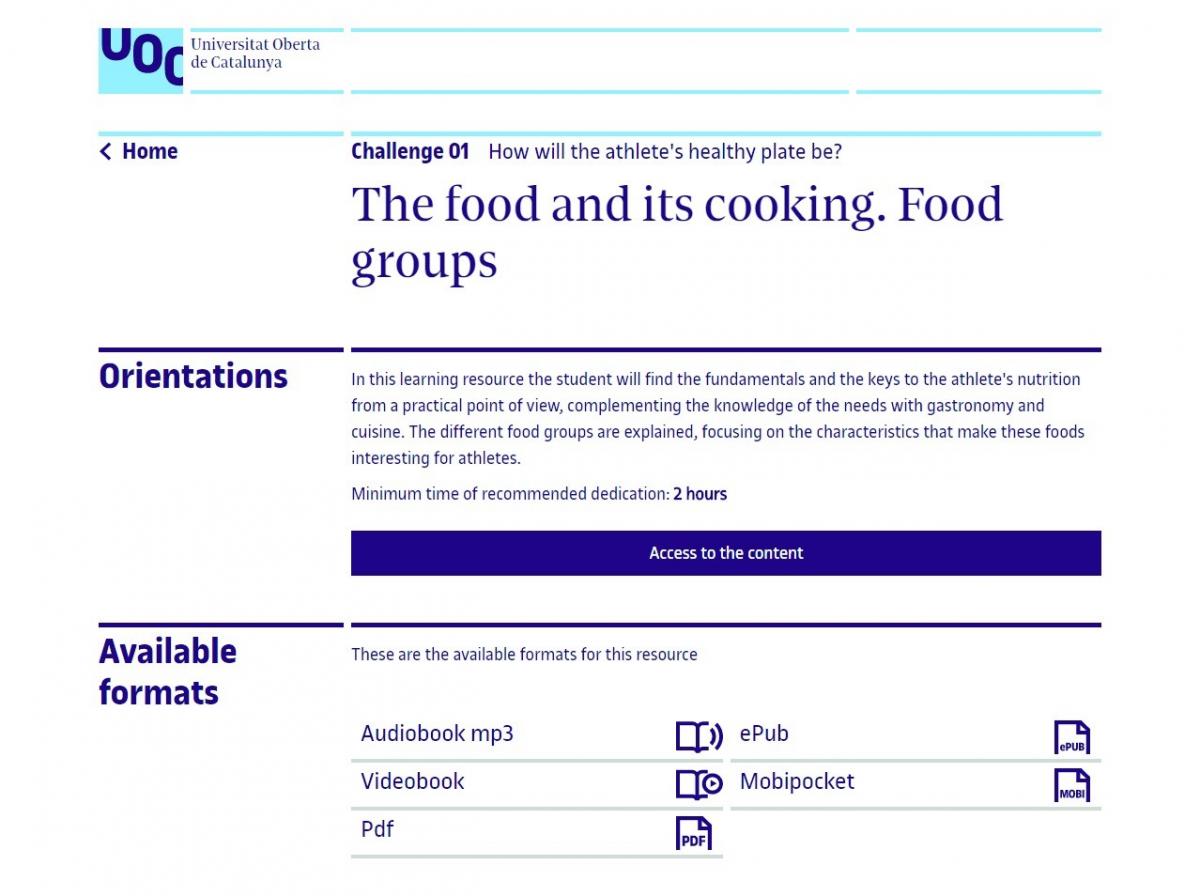 Outcomes and Benefits
This initiative was launched to link learning objectives to reality, so the activities are more meaningful and less abstract for students. Challenge-based learning is student-oriented, focused on clear learning results measured continuously.
While the process of adopting new pedagogical and course design carries with it all the challenges of change management, it also results in a common standard of quality, featuring an approach to education that is flexible and adaptable for students and for the world of work. New roles for teachers are defined, requiring new methods of training and new thinking about pedagogy.
The new design addresses some of the issues related to dropouts as, for example, expectations for time for activities and resources are clearly stated so students do not underestimate the commitment needed.
During the development process, faculty are asked to rate the importance of each activity and resource – and to match requirements with the credit hours allotted. This makes faculty more aware of time required for the student and reduces the number of "just in case" resources offered.
Challenges and Enhancements
The process of integrating challenge-based learning into UOC is in its early stages and the culture of the institution needs more time to accept and invest in this change. The faculty involved to date are pleased with the process and the results for students and feel they developed better pedagogical skills. No formal assessment of the process was undertaken as it has not yet achieved critical mass in numbers of courses and faculty involved.
The process is underway for just over two years, with the first efforts in the early months resulting in improvements in process and methodology.
Rights are a continuing concern, with licenses managed by the library.
Resources in different languages are translated, although students in master's programs are expected to be able to read English. However, the expected time for the use of a resource, as outlined on the course website, is always extended when a source is in English.
In addition, resources are adapted for accessibility with, for example, videos accompanied by sub-tiles and transcriptions for videos from sources such as YouTube. Transcriptions are provided in the language in which the course is taught – Spanish, Catalan or English. With automatic translation, the course may be available in all three languages.
Potential
The long-term objective is to generalize this competency-based challenge learning approach throughout the bachelor's and master's degree programs. The application stated with new programs, courses with large enrolments and those due for revision.
The structure of the design – linking challenges and activities to specific competencies – allows for alternative combinations of challenges into shorter learning programs that adjust to market needs, advances in technology, and evolving capacities of faculty. Xavier Mas envisions this approach could lead to awarding badges and other forms of recognition for the development of skills related to competencies.
For Further Information
Dr. Xavier Mas
Specialist in Digital Education
eLearn Center
Open University of Catalonia
Barcelona, Spain
[email protected]
Roger Griset
Project Manager and Trend Analyst
eLearn Center
Open University of Catalonia
Barcelona, Spain
[email protected]
Institution
Open University of Catalonia
Teaching and Learning
International Pockets of Innovation
Country
Spain