Submitted on Fri, 2018-04-06 16:29
Opportunity
In 2013, Pablo Achard, Senior Advisor to the Rector at the University of Geneva (UNIGE) in Switzerland, took on responsibility for the development of the University's Massive Open Online Course (MOOC) program. The first MOOCs were to act as a showcase, with as many of the topics as possible aligned with accomplishments and history of the University and the city of Geneva. Early productions featured John Calvin, the Protestant Reformer who founded the University in 1559; issues of human rights; global health; international organization management; and Exoplanets, planets outside of our solar system, the first of which was discovered by Michel Mayor, a UNIGE professor and Didier Quelloz, his PhD student at the time.
Dr. Achard was frustrated by the passive role of students in most MOOCs; even with discussion boards and peer review, the level of engagement remained low. Discussions with a colleague about the concept of citizen science led to investigations of sites like Zooniverse, described as "the world's largest and most popular platform for people-powered research" by volunteers who assist professional researchers in research not possible, or practical, otherwise, but results in new discoveries and datasets useful to the wider community.
Innovation
Inspired by the ideas of citizen science, Dr. Achard saw MOOCs as an ideal opportunity to provide thousands of people voluntarily interested in a topic with access to data to be analyzed and categorized. Integrating Massive Open Online Research Exercises (MOOREs) into MOOCs offers learners real-world research experience, with researchers benefitting from the findings.
Exoplanets: The first Exoplanet MOOC was published five years ago; it is now being updated to include Massive Open Online Research Exercises as well as new scientific developments. The MOOC includes lectures on what is known about these planets, how to detect them, how they are formed and other up-to-the-moment topics from researchers, including Michel Mayor and Didier Quelloz.
To take part in the voluntary MOORE, participants login directly from the MOOC to data from satellites recording activity in other solar systems. Three levels of exercises are available: In the first, participants try to find new planets by analyzing patterns of luminosity of stars. The same data sets are given to 10 or 15 people, and when several of them report seeing a new planet, the information is passed on to researchers who investigate further. In the second level, participants respond to a series of questions, using algorithms to determine if what they are seeing is a planet or a binary star – which gives similar signals. The third level involves detailed observations and calculations to determine the size of the planet and its make-up, whether gaseous or rocky or other. The last exercises are aimed at enhanced learning and experience for the participants, as the professional researchers are working on the same questions.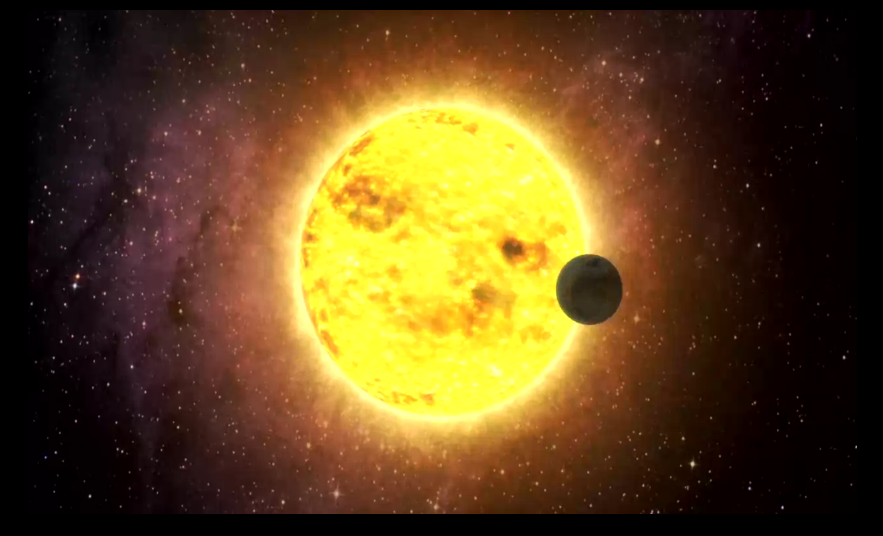 Participants are guided through the initial exercises as the first data set they have access to contains previously analyzed data. This data is labelled "Gold Standard" as it is sure to contain planets. They get immediate feedback to their reported findings and when they demonstrate understanding, they receive unanalyzed data. As many learners receive the same unanalyzed data, they also receive feedback in the form of statistics: "X% of the participants found a potential planet here".
This same Exoplanet exercise for planet discovery was integrated into EVE Online, a massive, multi-player, space-based game in which players can take on different roles, one of which is scientist. The planet-finding exercise is a natural fit for the game, as players explore the data, track luminosity traces, and report seeing or not seeing planets. The Exoplanet capacity was added in July 2017; after six months, there were 66 million annotations concerning the possible presence or absence of planets from more than 150,000 participants. Video game participants get feedback on overall participation two or three times a year, such as how much data was analyzed and whether planets were found.
The revised Exoplanet MOOC, with its research exercise, is currently being developed by Ayaru, a company co-owned by the University of Geneva and a private company MMOS, with a focus on integrating Massive Open Online Research Exercises into teaching and learning activities. The Exoplanet MOOC will be available on Coursera in Fall 2018.
The MOORE integrated into the Exoplanet MOOC was demonstrated to a Swiss foundation which awarded funding to develop other MOOCs incorporating the approach.
World Literature: The professor has a collection of hundreds of online texts related to the history of the concept of World Literature. He created seven different dimensions for their classification, such as the temporality of the concept or the type of cosmopolitanism that is promoted by the authors. Learners in the MOOC can voluntarily participate in classification as a way of deepening their understanding of World Literature and participating in the organization of its knowledge base. The exercise is being pre-tested with PhD students in summer 2018, prior to the MOOC launch on Coursera in Fall 2018.
Health Care: This MOOC is designed for patients with the same health challenge, focused on how to live with the condition. The MOORE involves the annotation of YouTube videos about the condition, answering questions about how the content relates to the MOOC content, what specific topics are covered, who is featured whether patient, medical expert or other, and level of interest and reliability. The MOOC participants are not passive leaners but part of an engaged community of practice that includes researchers and medical experts.
Benefits and Outcomes
Searching and analyzing real data – and possibly making a discovery and adding to knowledge – motivate, engage and even reward research participants. As Dr. Achard says: "Doing real-life research that leads to a possible discovery and creation of a knowledge base is more engaging than any multiple-choice assessment".
Participants also come to better appreciate the scientific method of investigating, recording and assessing data. Pablo Achard points out that in times of argument about the validity of concepts such as global warming/climate change, a wider appreciation of how scientific research is undertaken has wide ranging advantages.
MOOCs deliver hundreds and sometimes thousands of learners interested in the topic – ideal participants in a Massive Open Online Research Exercise. According to Dr. Achard: "There is no need to search for volunteers – they come to you."
Researchers can benefit from having vast amounts of data reviewed usually by multiple participants, providing them with valuable input for further analysis in Exoplanet, or access to reviewed and categorized information in World Literature and the health care application.
Applications such as in World Literature demonstrate how MOOREs can be integrated into courses beyond the natural sciences, including the humanities and social sciences. They also demonstrate that complex classifications can be asked of the participants who have learned the underlying concepts in the MOOC.
The Health Care application helps the learners become more sophisticated about the validity of information available on web and results in an annotated and assessed list of videos that can be useful to others with the same condition, researchers, health professionals or families as sources to be recommended.
Challenges and Enhancements
Academics express interest in MOOREs as valuable tools for active learning, but need to find the extra time, funding, or support to integrate it in a MOOC project, already time consuming.
Potential
The integration of MOOREs into corporate training offers considerable potential. Dr. Achard offers the example of giving students in Conflict Management courses e-mail threads to analyze so they can assess where the conflict originated – sales, service, management, customers, etc. – how it escalated and was resolved or not. Working with real situations results in better trained employees, with skills for analysis, feedback and conflict resolution.
For Further Information
Pablo Achard
Senior Advisor to the Rector
University of Geneva
Co-Founder
Ayaru
Geneva, Switzerland
[email protected]
University of Geneva (English, français)
Pablo Achard. Les MOOCs – Cours en ligne et transformations des universités. Presses Universitaires de Montréal (2016).
Institution
University of Geneva
Teaching and Learning
International Pockets of Innovation
Country
Switzerland