Submitted on Tue, 2017-01-03 10:29
Opportunity
The national Israeli educational system is divided into two subgroups: Jewish and Arab, and the Jewish system is further subdivided into secular and religious (Orthodox). Teacher education colleges are also divided into these three groups.
To bring these three distinct cultural groups together, a Center for Technology, Education and Cultural Diversity (TEC Center) was set up at the MOFET Institute, an umbrella organization for professional development that serves all 24 teacher education colleges in Israel. Among the TEC Center objectives is the development of innovative educational models that bridge cultures using advanced technology.
Three women developed the educational model used at the TEC Centre - Dr. Asmaa Ganayem, head of information and communications technology (ICT) at an Arabic teacher education college, Dr. Miri Shonfeld, head of ICT at a secular Jewish college, and Dr. Elaine Hoter, head of ICT at a religious Jewish teacher education college. Together, they created a design for online courses based on collaborative learning. The online courses using the TEC Model bring together students from Jewish religious, Jewish secular and Arab Muslim teacher education colleges, using a pedagogical model designed to use educational discussion and cooperation to build mutual trust and respect.
Innovation
Courses using the TEC Model bring together students in second and third years at teacher education colleges who work in carefully constructed small groups on joint assignments throughout an entire academic year. Each group of six students includes two from each of the cultural groups – secular Jews, religious Jews, and Arab Muslims. Their online communication begins with text exchanges, progressing to audio interchanges between teachers and students, and finally audio links among the small groups. After a few months, there is a videoconference or face-to-face meeting. The course ends with another face-to-face encounter for presentation of each group's work and socializing.
Much of the work is done asynchronously, with synchronous sessions every two or three weeks. The criteria for grades include evaluation of individual and group collaboration and cooperation. Courses using this model are offered in ICT, environmental studies, and English literature (Palestinian and Jewish literature written in English) that are part of the teacher education college curricula. Students from up to 15 colleges take part in the courses.
Outcomes and Benefits
The continuous and year-long progression of contact between students is essential. The members of the small groups get to know each other online gradually, with the shared interests of the course and assignments as the crucial links. Cultural differences are minimized. At the face-to-face meetings, attention is paid to their common experiences and learning, rather than dress, appearance and other cultural factors.
Questionnaires and interviews are used before and after the courses to track changes in attitudes and understanding. This research shows that online course participation reduced students' prejudicial attitudes towards other groups, and in particular between religious Jews and Arab groups, to a statistically significant degree.
As described by Dr. Elaine Hoter, in the TEC model, course participants "get to know each other, reducing bias and prejudice and developing mutual respect. People change their minds, not only about the individuals, but also about the group."
A student comment demonstrates the scope (and achievement) of the goals of the projects – changing the minds of teachers so they can influence children:
I am leaving this course with an important contribution. Tomorrow, when I teach my students, I will be able to say that we are all equal human beings, even if we have our differences. When I say the word "an Arab" to my students, it will sound different from what it sounded like prior to the course.
The chart below details the progress of change found during the courses, as well as highlighting the necessary conditions for the TEC courses:
Small group cooperation and collaboration;
Institutional support;
Interaction over a year;
Team teaching;
A-political content;
Equality of status; and
Teachers belong to the different cultural groups.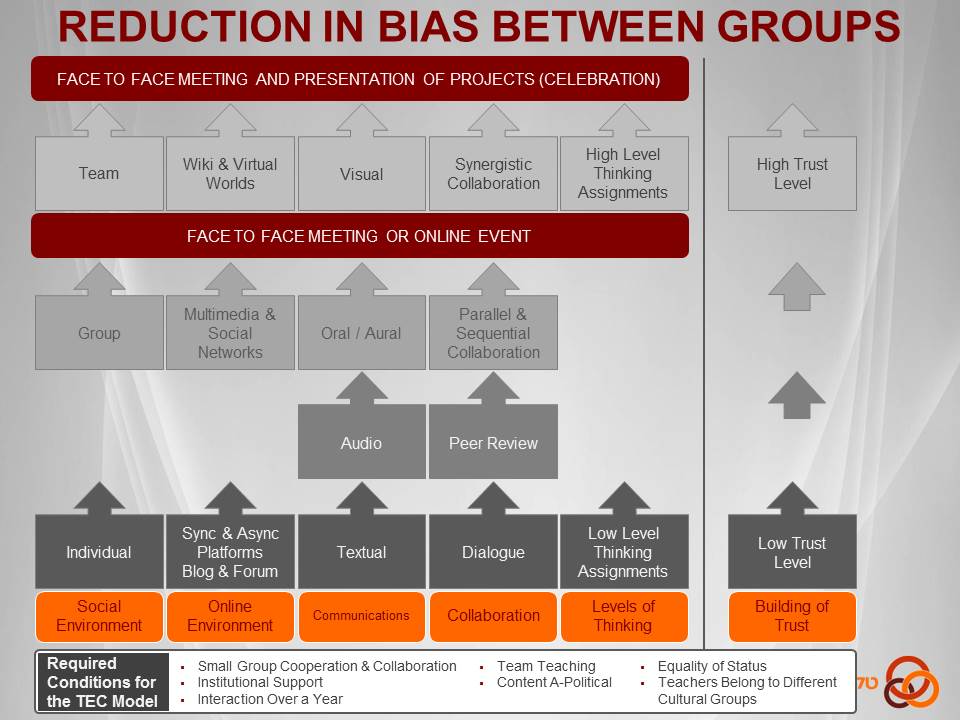 Challenges and Enhancements
Although strong connections and friendships were formed during the course, these did not continue once it was concluded. As a way of encouraging ongoing contact, a social network for alumni activity was set up.
Despite the reduction in prejudice and growth in trust, challenges persist concerning cultural differences, language barriers, different study habits, and intercultural competitiveness. Each group had concerns that reflected beliefs about themselves and the other two groups.
Some topics, which contained inherent and well-established areas of disagreements, also created difficulties.
Potential
The TEC model is also used in schools with practicing teachers, through the support of the Ministry of Education. Over 100 teachers are brought together in a three-day retreat to learn about the model, working in small groups with Arab and Jewish participants. After the retreat, the teacher groups combine their school classes to work together over the course of the year in accordance with the TEC Model. Over 3,000 children in elementary and junior high schools take part in these courses and get to meet up face to face at the end of the experience.
TEC Island, a virtual space was created as a safe space for school students to meet and learn about other cultures. One of the activities involves learning about Ramadan by visiting a virtual market and mosque, which offers 18 points of interest and interaction. Different games, structures, activities, missions and educational content focused on cultural diversity in Israel are continually being added to this space.
The TEC model has potential for international applications in situations of racial distrust and conflict. The team is interested in working with other institutions. Dr. Mira Shonfeld sees that "if we had all the people to work with, we could change the world".
For Further Information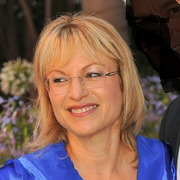 Dr. Miri Shonfeld
Head, TEC Center
MOFET Institute
Senior Lecturer and Researcher, Kibbutzim College
Israel
[email protected]

Dr. Elaine Hoter
Senior Lecturer and Researcher, Talpiot College of Education
Pedagogy Advisor, TEC, The MOFET Institute
Israel
[email protected]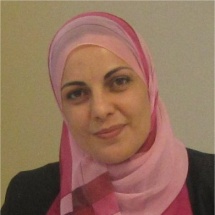 Dr. Asmaa Ganayem
Lecturer, Researcher, and Advisor,
The MOFET Institute and Al Qasemi College
Israel
[email protected]
1 Shonfeld, M., Hoter, E., & Ganayem, A. (2013). Connecting cultures in conflict through ICT in Israel. In R. S. P. Austin & W. J. Hunter (Eds.), Linking schools: Online learning and community cohesion. New York: Routledge.
Institution
TEC Center - Center for Technology Education and Cultural Diversity
Teaching and Learning
International Pockets of Innovation
Country
Israel