Submitted on Mon, 2016-12-19 13:36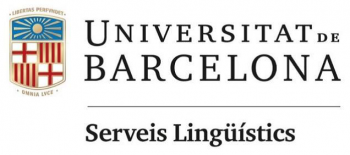 Opportunity
The University of Barcelona in Spain has over 65,500 students, 5,300 faculty members and researchers, and almost 2,300 other staff, spread over 6 campuses. To prepare its graduates for international careers, the university wanted to offer opportunities for language learning beyond those available through the School of Modern Languages which currently enrols 6,000 students.
The Common European Framework of References for Languages, developed by the Council of Europe, outlines levels of language proficiency from beginner to full fluency. The University of Barcelona is adopting a requirement that every student must demonstrate a B2 (upper intermediate) level of capacity in one of the major European languages, in addition to Spanish and Catalan, in order to graduate.
Innovation
To meet this requirement and offer enhanced learning possibilities, the University wanted to make language learning more accessible to all students, faculty, and staff; reach new groups of students off campus; use the Internet to offer more flexible and accessible learning; and assure the language learning they offer is of high quality.
The University Language Services searched for a language learning option that was not reliant on a teacher but offered students access to quality online learning materials they could follow at their own pace. The main objective was to offer an online language learning option complementary to face-to-face teacher-led language courses.
The Self-Access Language Centre in the Language Services division was central to a research and evaluation initiative to find a commercial language learning product that met the requirements of the University:
A wide variety of languages offered for non-credit learning;
Available online with mobile options;
Able to serve a large number of students at various levels of competency;
A powerful management system that could be integrated with the university system; and
Active learning through voice recognition, correction of short sentences, and effective student feedback.
The University selected Rosetta Stone, a product offering resources for learning in 23 languages, which, according to Òscar Serra, Project Manager, University of Barcelona, meets the needs outlined above, as well as providing detailed and overview reports on each student, language and learning level. He describes Rosetta Stone as offering "immersion learning, with an emphasis on words and speaking rather than grammar".
In 2011, thanks to an initiative by the Vice-rectorate of Language Policy, the University purchased 600 licenses so students were able to take a Rosetta Stone language level course free of charge. Registrants were required to complete a level within three months to maintain their free access. In the first year, more than 25,000 hours of study were completed using Rosetta Stone. The company published a case study of this experience, entitled Offering Access to All to Build Critical Language Skills. The University conducted a survey, confirming the majority of students found the courses to be useful.
As part of this new initiative, the Self-Access Language Centre provides learner support and interaction to encourage and enhance learning. Face-to-face support is available in the self-access centre, along with help with the technical aspects of the programs, and occasional e-mail messages to students. On the University of Barcelona virtual campus, self-access students can find user guides, learner documentation, tests corresponding to various levels of the packages, support materials, discussions forums with other students, and help with technical and usage problems.
The courses were offered again in 2012 but students were required to pay for registration, although the price was very low. The University also launched a publicity program to make more students aware of the language resources and support available for self-access learning. In 2012, this program consisted of leaflets, posters and a website; in 2014, it was expanded to include Twitter and Facebook.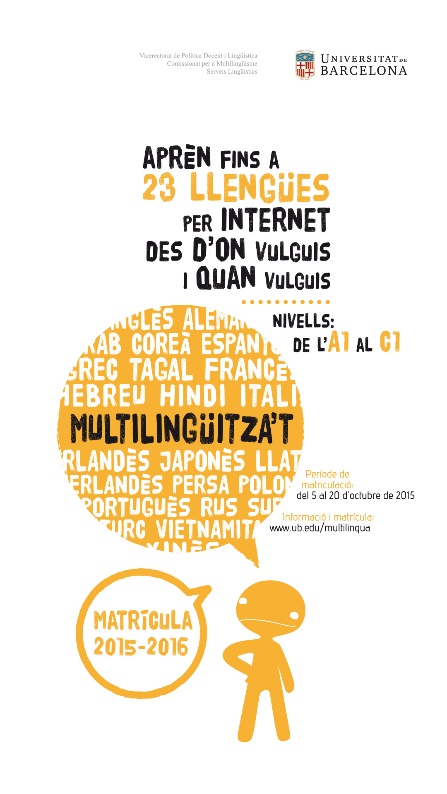 Also in 2014, Rosetta Stone bought Tell Me More (now Rosetta Stone Advantage) which offers advanced language learning. In addition, Rosetta Stone Advanced Professional programs provide packages designed for the specific requirements of different professions, such as medicine, tourism, and economics. The University uses these packages to extend the level and scope of their offerings to students.
Students most often access Rosetta Stone resources through computers, with tablets and smart phones used about 30% of the time.
Outcomes and Benefits
As of March 2016, more than 5,000 learners have used Rosetta Stone through the Self-Access Learning Centre and participated in more than 100,000 hours of study.
The Self-Access Learning Centre sees its role as encouraging language learning more broadly on campus, among students, faculty and staff. About 1,000 students a year register, including faculty and staff. Just over 50% of the registrants are university students.
English is by far the most popular language, with more than 40% of study hours. French and German are next with about 15% each. Numerous other languages also attracted students, including Japanese, Chinese, Polish, Russian, Arabic, Greek and Hebrew.
Surveys using a 5-point scale, with 5 as highest level of satisfaction, demonstrated very positive results:
All key factors – usability, structure, content, methodology, voice recognition, monitoring, and evaluation – received mostly 4 and 5 ratings.
The website, support and resources offered to learners through the Virtual Campus received ratings of 4 and 5 from about 70% or higher of both student and faculty groups.
Overall levels of satisfaction included 30% reporting themselves to be 'very satisfied' and 60% as 'satisfied'.
Students receive a certificate of completion for every level with Rosetta Stone. For an additional fee, the University's School of Modern Languages offers students level tests and the possibility of enrolling in a credited language course.
Challenges and Enhancements
Attracting students remains a challenge, as they have so many other activities, learning requirements, and responsibilities.
To be consistent with the premise of self-access and self-regulated learning, the Self-Access Centre is careful with the wording of any reminders or encouragement they distribute, offering them as information and tools. If a student has not yet signed in, they can be gently prodded, but no comments are made on progress.
As a language learning complementary offer, recruitment takes place in October and April for course starts in November and May. This is late in the academic cycle and it is a question to be revised in order to meet both University and student needs.
Potential
The University is considering offering students the option of guided learning, as some of the student feedback indicated they miss the encouragement provided by a teacher. Various ways of helping them to keep moving ahead are being explored.
For Further Information
Òscar Serra
Project Manager
Self-access Language Centre
Language Services
University of Barcelona
Barcelona, Spain
[email protected]
Institution
Universitat de Barcelona
Teaching and Learning
International Pockets of Innovation
Country
Spain