Submitted on Tue, 2020-06-02 15:35
Opportunity
After a 20-year industry career in digital marketing, Justina Ciarlariello began teaching MRK340 Techno Marketing at St. Clair College. A key course requirement is for students to create a social marketing campaign plan. The first time she taught the course, Professor Ciarlariello asked a local company to come in and talk to the students about their current marketing efforts and what they were hoping to do in the social media space. The students were then tasked to build a social media strategy that would work best for the local company. She found this "show and tell" approach did not effectively engage students as they had never built a social media campaign before and did not know where to start.
Then Professor Ciarlariello discovered Stukent's Mimic Social, a web-based simulation tool that offers a comprehensive hands-on environment for students to learn social media marketing skills. After attending the publisher's conference and talking to faculty who adopted it, she decided to integrate the tool into her course the following year.
Innovation
When students log into Mimic Social, they are provided with a hypothetical case of a company wanting to market their products on social media. Students are prompted to learn about the company, their products and their audiences, and then create targeted social media posts for the company on the social media platforms Facebook, Twitter, Instagram, Pinterest, YouTube, and LinkedIn.
Students are presented with simulated personas and must choose which ones they should target to effectively market the company's products. Students can choose the types of content to include in the postings, such as text, videos or images, and infographics. They also can schedule what day and time they want their postings to appear on which social media channels. All decisions made by students have cost implications associated with them, and they must remain within the $5,000 budget allocated by the company.
The postings may be either sponsored posts, for which they must pay, or organic postings. A link to further information and social media best practices is available to help students with decisions they must make. Once they have their campaign in place, they ask Mimic Social to run the marketing simulation. Their activities up to this point are called the Round 1 posting phase of the Mimic Social.
Round 2 of the simulation is the analysis phase. During this round, students get real time analytics on the impact of their strategies, make decisions about enhancing the effectiveness of their campaign, respond to questions generated by the system, and answer queries from fictious customers in order to receive a customer service score. At the end of this round, students receive a grade for their campaign along with detailed feedback on its effectiveness. They can also see the scores of other students in the class without seeing names and they see their own ranking in the class. A screenshot of a typical student dashboard is below.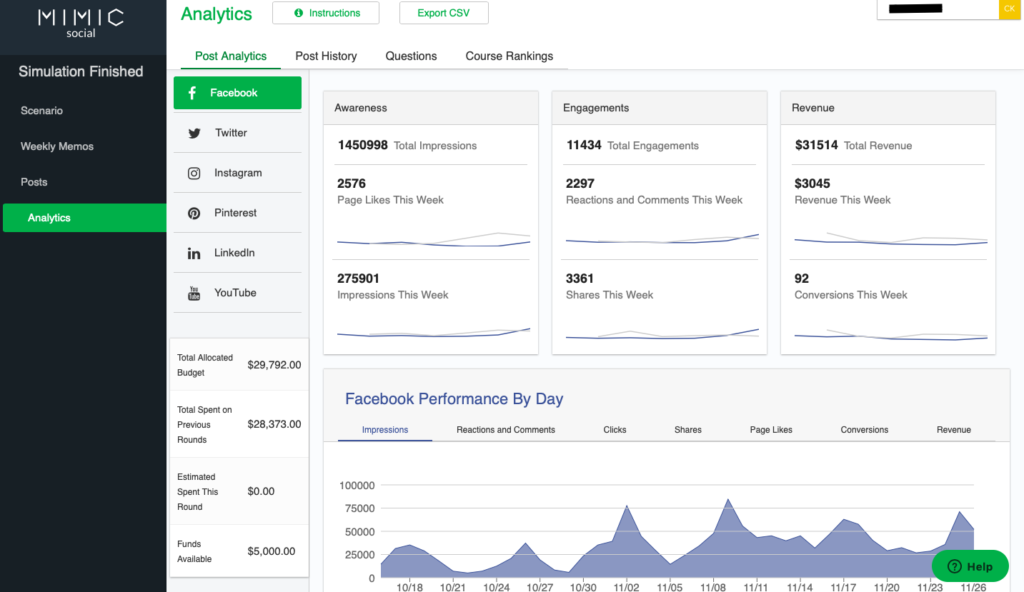 The instructor also has a dashboard where she can view in real time the performance of all students and view their responses to questions. Moreover, she receives a spreadsheet of all student activity she can use for course grading purposes. A sample teacher view of student activity and rankings is below.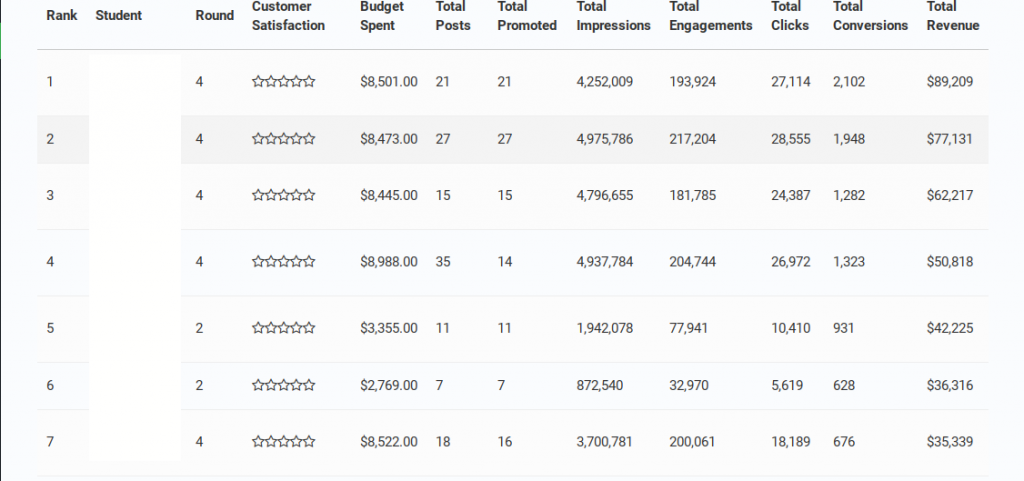 Professor Ciarlariello requires students to run two rounds in one week. The process of running the two rounds per week is repeated for another 5 weeks, resulting in a total of 12 rounds for the course. In later rounds, Mimic Social provides students with progressively more complex tasks, such as negotiating contracts with social media influencers to promote the company's products.
Benefits and Outcomes
Compared to lecturing about social media marketing and demonstrating various tools, Professor Ciarlariello finds Mimic Social to be much more engaging for students because of the hands-on, real world learning experience it offers. She reports students enjoy the game-like, competitive aspect of Mimic Social and motivates them to try to improve their scores on successive rounds. Additionally, she finds students are more successful because developing a social media marketing campaign without a concrete understanding of the marketing choices they make is a very challenging exercise.
Stukent produces digital marketing textbooks that are updated at least twice yearly, so they are always current. Professor Ciarlariello references one of these texts for her course as it is developed specifically to support Mimic Social. The textbooks contain lesson plans, video content, instructor notes and slides, case studies, and quizzes.
Challenges and Enhancements
Initially, Professor Ciarlariello had concerns about the grading formulas used in the spreadsheet Mimic Social provides. For example, students received good grades even though they completed only several rounds of the simulation. After reporting this to Stukent's support staff, they resolved the issue promptly.
Since social media is such a rapidly changing field, Professor Ciarlariello feels that Mimic Social needs to keep up-to-date and include the popular platform Snapchat and the increasingly-popular video sharing platform TikTok. She feels the inclusion of social media stories (short user-generated photo and video collections) would also be a valuable addition to Mimic Social as they have strong potential for marketing.
Potential
Professor Ciarlariello's class uses Mimic Social in a computer lab twice a week at St. Clair College, although students can access the tool any time outside of lab hours. She points out the Mimic Social is used by other faculty in fully online courses as well. Overall, she feels the simulation tool is a valuable supplement to make any course on social media marketing more engaging and relevant.
For Further Information
Justina Ciarlariello
Professor of Marketing
St. Clair College
Windsor, Ontario
[email protected]
Province
Ontario
Country