Submitted on Mon, 2021-05-10 13:55
Opportunity
After the COVID-19 pandemic forced classes online, Dr. Sharon Lauricella, Associate Professor of Communication and Digital Media Studies at Ontario Tech University, wanted her students to find respite and enjoyment in her classes. She wanted to ease the social isolation and loneliness she knew they were feeling. Even more, she wanted them to look forward to her class — so much so that it would become the highlight of their week.
Knowing her students were missing all the highlights of an on-campus experience, she put her quandary on Twitter to get help from her academic community. Eventually she connected with Dr. T. Keith Edmunds, an instructor in the School of Business, Agriculture & Environment at Assiniboine Community College in Brandon, Manitoba.
Together they opened a discussion about play and fun in the classroom, noting how both aspects are largely absent from higher education. Their shared philosophy about the importance of play and fun in learning and sparked the development of the concept of "ludic pedagogy."
Innovation
"Ludic" comes from the Latin word ludere, which means "to play." Dr. Lauricella and Dr. Edmunds dove into the literature, synthesizing it to create the four pillars of the pedagogical model: fun, play, playfulness and humour. The idea is to create the context for a positive, effective learning environment that lets students associate learning with positivity and engagement — without sacrificing academic or intellectual rigor. Central to their innovation are:
Fun is an intrinsic motivator that helps retain and engage students. The instructor creates a fun environment by incorporating social activity, so things like breakout rooms are a good option for synchronous online courses, and presentation groups are an option for asynchronous courses.
Play refers to an activity that instructors provide for their students. Whether it be online games, polls, surveys or quizzes, all are excellent and highly effective learning activities that can invoke fun.
Playfulness refers to the disposition the instructor brings to class and the ability to not take everything seriously. Dr. Edmunds sets the tone from the start of his virtual classes with cheerful and humorous banter with his students while they wait for everyone to login.
Humour is another key element of ludic pedagogy. Instructors can use humour in almost all aspects of their instruction: in discussions and lectures, course materials, problems, images, or situations.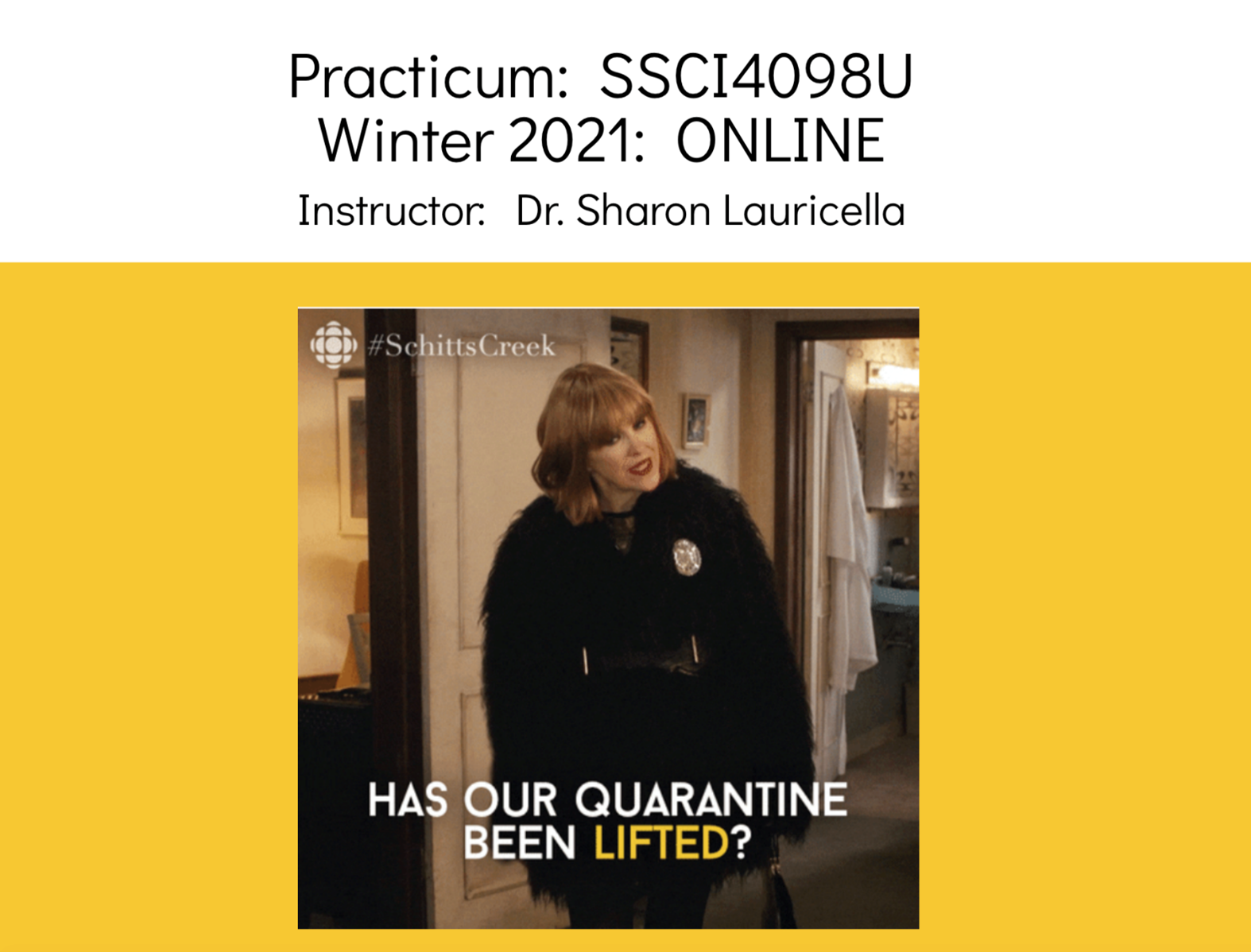 Dr. Lauricella uses Schitt's Creek memes in her syllabus to incorporate humour and playfulness. She also uses humorous images throughout her course page on Canvas LMS.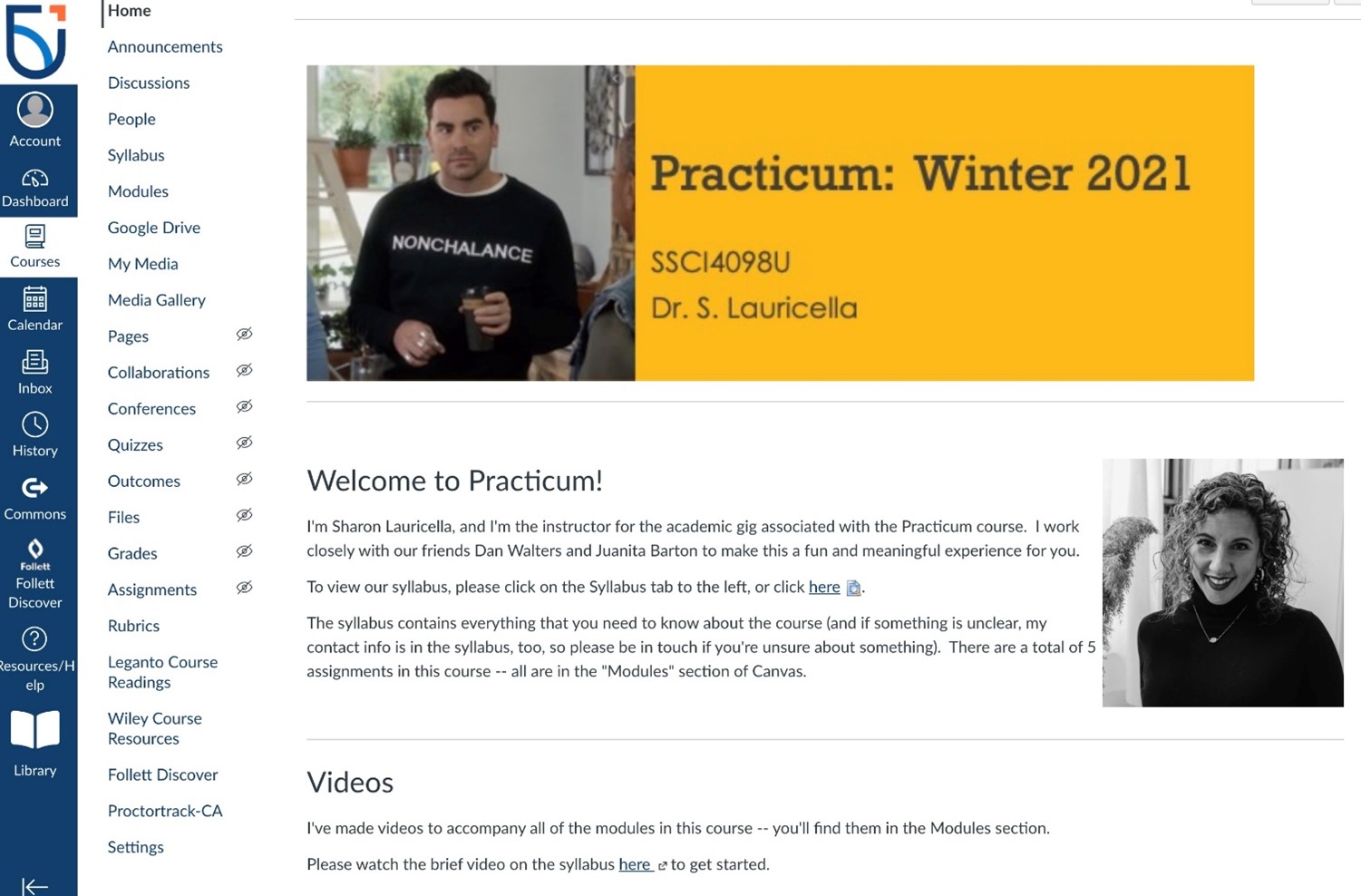 Benefits and Outcomes
When using ludic pedagogy in their online classes, Dr. Lauricella and Dr. Edmunds found that a less stressful and enjoyable learning environment improves student engagement, motivation, and learning outcomes.
They discovered that a playful attitude improves cohesion among students and better rapport between students and faculty. Retention also improves when students have fun. In Dr. Lauricella's Communication and Conflict: Nonviolent Communication class of 65 students, for example, nearly every one shows up to class each week.
Fun and humour can facilitate a more relaxed atmosphere in which learning is increased, Dr. Lauricella discovered, because most students want to learn in this kind of environment. Dr. Lauricella also noticed an increase in the retention of material when fun and humour are incorporated into presentation slides or screensharing. "Students can more readily recall examples that are distinctive or funny," she explains.
The benefits to faculty are much the same. Fun and play make the work environment more engaging, less stressful, and more enjoyable. Dr. Edmunds notes that one of the benefits of their ludic pedagogy model is that it is customizable to an individual's personality. It allows faculty the freedom to make the model their own and use what works for their discipline, whether it applies to humour in biology, business, engineering, or history.
Challenges and Enhancements
Although Dr. Lauricella and Dr. Edmunds haven't themselves experienced significant challenges implementing their model, they acknowledge that challenges could occur.
The pillars are subjective, with one student's idea of fun being quite different from another's. Instructors create the conditions in which students are likely to have fun, but there is no guarantee that all students will actually consider it fun. Same with humour: not every student will respond to humour in the same way, particularly in a culturally diverse classroom. It can be difficult to find something that works for all students. Being aware of sensitive topics can allow for appropriate use of humour, play, and fun.
Potential
There is a notion that higher education has to be serious, but Dr. Lauricella and Dr. Edmunds believe there is huge potential for cultural change if faculty incorporate ludic pedagogy. When students are exposed to a fun educational experience that incorporates humour, play and playfulness, they can take this mindset to the workplace and help transform professional culture with the ludic spirit and attitude.
Further Information
Dr. Sharon Lauricella
Associate Professor of Communication and Digital Media Studies
Ontario Tech University
Oshawa, Ontario
[email protected]
Dr. T. Keith Edmunds
Instructor
School of Business, Agriculture & Environment
Assiniboine Community College
[email protected]
Province
Ontario
Country