Submitted on Thu, 2020-09-24 12:39
Opportunity
Michael Justason, Program Chair, Civil Engineering Infrastructure Technology and Assistant Professor in the Faculty of Engineering at McMaster University, was looking for ways to effectively teach engineering online. Drawing diagrams, rendering equations and problem solving online was a challenge. Professor Justason experimented with tablets, recording on the SMART Board and voice-overs on PowerPoint to aid him in his teaching, but wasn't getting the desired results.
Soon after, Professor Justason saw a colleague use a lightboard for a massive open online course (MOOC) and was instantly intrigued. Soon after, he created over 38 videos for his engineering economics course using a lightboard, recorded in a studio on campus.
The studio recordings with the lightboard were so well received by Professor Justason's students, he was prompted to deliver the content in a live, synchronous format.
Innovation
A lightboard is framed glass illuminated with LED lights. The instructor stands behind the glass and can write notes, teach concepts, draw diagrams, solve equations and/or problem solve using florescent whiteboard markers. As the camera feed is flipped and the instructor is behind the glass, the instructor doesn't obscure any of the writing on the board. The instructor can speak and explain ideas quickly with visual aids, and gesture or point out parts of the board using their hands.
When using a lightboard with a web conferencing platform such as Zoom, the instructor can also use PowerPoint in conjunction with the lightboard to interact with the slides and produce a highly engaging lesson. It also allows the instructor to face their audience, where they can maintain instructor presence by engaging the students with eye contact and gestures.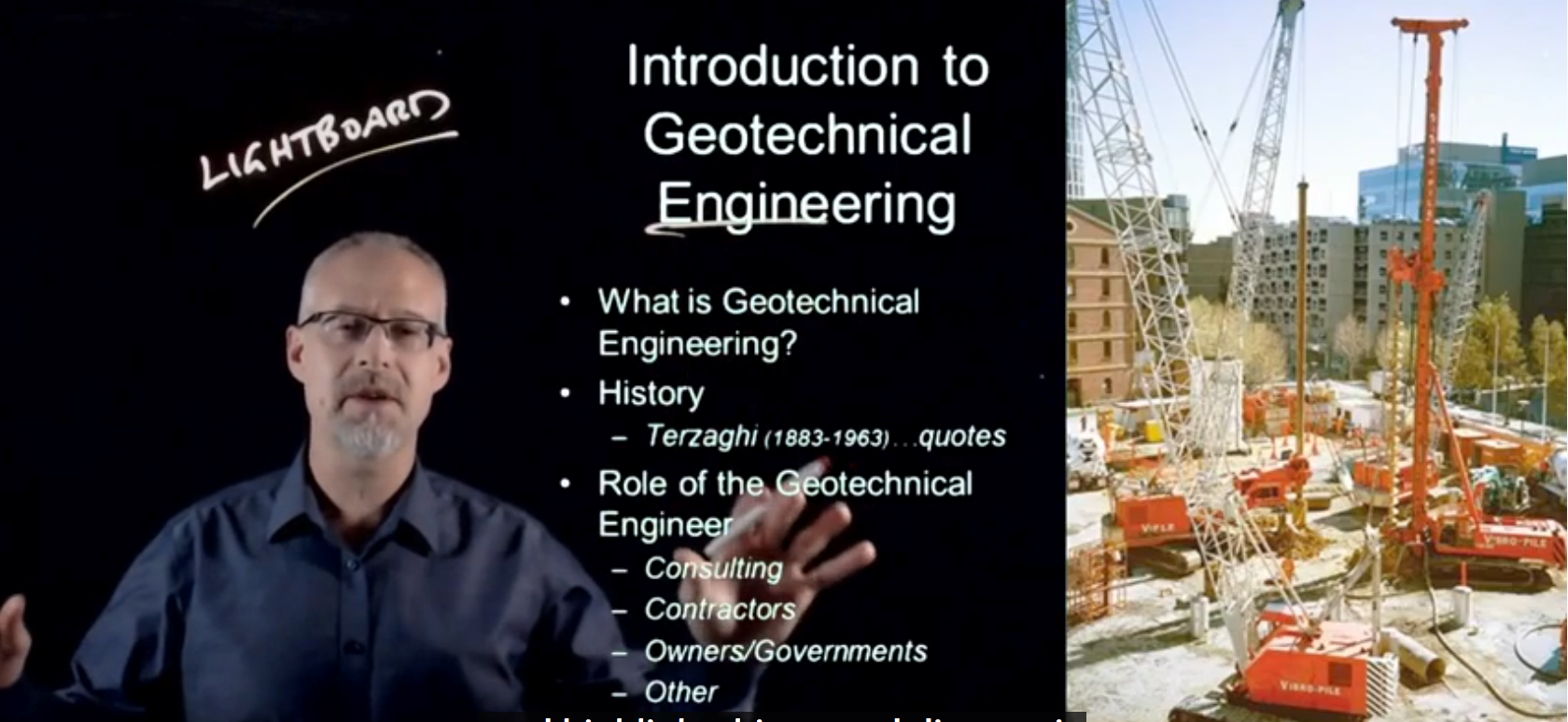 Michael Justason teaching with his lightboard and PowerPoint slides.
Home studio set-up
Access to the studio for the live sessions proved to be a challenge during COVID-19, so Professor Justason decided to set up a mini studio in his home, using;
"Desktop" lightboard - lightboards can be purchased at: https://lightboarddepot.com/shop-lightboard/
A table or desk to support it (a height adjustable sit-stand desk works best)
A webcam and tripod
A black backdrop
Presenter lights
A USB microphone
A laptop computer (a second monitor is suggested)
Markers, rags. squeegee, etc.
Zoom
Michael Justason's home studio, in his son's former bedroom. Takes up about 8x6 feet of space.
Professor Justason also uses free and open source software for mixing media called OBS Studio. This allows him to add the PowerPoint slides to the video in addition to seeing him and his annotations on the lightboard. He has also shared Excel spreadsheets in this way to enhance interaction with the content.
Watch Michael Justason's lightboard demonstration.
Benefits/Outcomes
A lightboard allows faculty and instructors, with little technical knowledge, to create online synchronous sessions that are closer to the real classroom experience. It also allows for more interactive options, for example, a class brainstorm where the instructor can list the student's ideas/suggestions on the lightboard.
Recording lectures has advantages such as increased flexibility for the instructor and students. Not only is it easy for the instructor to set up and record a lecture convenient to their schedule, recorded videos can be viewed by students any time and from any location. It allows students to view core concepts repeatedly until they feel they mastered the concept. For Professor Justason's engineering economics course, he recorded a number of sample problems students can watch whenever they want. Professor Justason's students say they like his videos better than attending his live classes for this reason.
Teaching with lightboards provide a more personalized learning experience for students as facial expressions, gestures and the subtleties of person-to-person interaction are present, making students feel more connected to their instructor.
Challenges and Enhancements
Live auto captioning in synchronous classes over a web conferencing platform can be a challenge. Most platforms like Zoom don't come with auto captioning, but there are third party integration software applications available, such as Otter.ai, instructors can use to add live captions. If the lecture is recorded, it can be uploaded to YouTube where it uses artificial intelligence to add text of the audio at the bottom of the video (as seen in Michael Justason's lightboard demonstration above).
Potential
Not only do lightboards work great for subjects where problem solving is central to the discipline, such as in science, technology, engineering, and math, it can enhance teaching in any subject, as it acts like a blackboard or whiteboard.
Recorded lectures can be enhanced with title slides, overlay of graphic images, inclusion of audio, or other techniques. You add interactive quizzing questions to a recording or create an interactive video with the H5P tool.
For Further Information
Michael Justason
Program Chair, Civil Engineering Infrastructure Technology and
Assistant Professor
Faculty of Engineering
McMaster University
Hamilton, Ontario
[email protected]
Province
Ontario
Country