Five Interactive Webinars By Contact North | Contact Nord Research Associate Dr. Tony Bates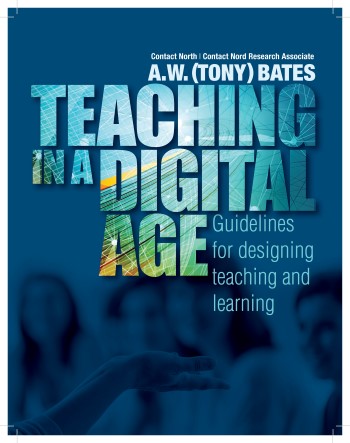 Starting in 2015, Contact North | Contact Nord Research Associate Dr. Tony Bates is presenting a series of five 45-minute webinars highlighting the practical advice and guidelines offered in his recent book, Teaching in a Digital Age: Guidelines for Teaching and Learning.
With experience in post-secondary education that ranges over 40 years and 30 countries, Dr. Bates offers concise and useful master classes in the key issues and questions in teaching and learning.
Each webinar is recorded and the recording is made available after the webinar.
There is a limit to the number of participants in each webinar. Register early to avoid disappointment.
Webinar Schedule
Webinar # 5 - How open education will revolutionize higher education: the impact of open research, open textbooks, OERs and open data on course design and delivery
Although open education initiatives such as OERs and open textbooks are currently fairly marginal, when they are combined with other developments such as open research and open data, they will transform university and college teaching, by shifting the focus away from content delivery to learner support. This webinar looks at the implications of these developments for online course design and delivery.
Tuesday, February 9, 2016 at 1:00 p.m. Eastern
View the recording (Note audio starts at approximately 30 seconds into the recording.)
Webinar # 4 - Ensuring Quality – How to Design and Deliver Quality Courses in a Supportive Learning Environment
Covers chapters 10 and 11 and Appendix 1 of Teaching in a Digital Age
Tuesday, January 12, 2016 at 1:00 p.m. Eastern
View a List of Unanswered Questions and Answers
Webinar # 3 - Making the Choice – How to Choose between Online, Blended or Campus-Based Delivery for Effective Learning
Covers chapters 9 and 10 of Teaching in a Digital Age
Monday, November 23, 2015 at 1:00 p.m. Eastern
View a List of Unanswered Questions and Answers
Webinar # 2 - Choosing Media – How They Differ and How to Make the Best Choices for My Teaching
Covers chapters 6, 7 and 8 of Teaching in a Digital Age
Tuesday, November 3, 2015 at 1:00 p.m. Eastern
Webinar # 1 - Teaching with Technology – How to Use the Best Practice Models and Options
Covers chapters 1, 2, 3, 4 and 5 of Teaching in a Digital Age
Tuesday, September 29, 2015 at 1:00 p.m. Eastern