Submitted on Tue, 2012-08-21 10:47
Enhancing student learning with mobile phones
Opportunity
An exploratory research study at George Brown College in Toronto sought to augment classroom learning by designing mobile-assisted language learning (MALL) solutions which would promote out-of-class listening practices, thus offering added language learning without increasing classroom time.
A hybrid course was developed to offer a combination of face-to-face classes, online components, and mobile devices used for listening practice. This mobile language learning model was designed for internationally trained professionals, with diverse cultural and educational backgrounds, in an Accounting program.
Students were provided with an iPod Touch and access to audio and video podcasts, internally produced and from external sources, for on-the-go retrieval and listening practice. Students were also encouraged to use the mobile devices to communicate by blogging or e-mailing and to record their reflections on the experience. As part of the 15-week pilot course, research was done on student learning and preferences for activities in mobile learning.
The research revealed that:
Students expressed a high degree of satisfaction with the MALL component of the course, citing flexibility, portability, access to resources and convenience as the key benefits;
Students identified cost and limited connectivity as the primary shortcomings of MALL;
Mobile devices were used primarily as listening devices, with minimal interaction and connectivity; and
MALL had to be re-designed to build in communication and activities and to take better advantage of the capacities of mobile devices.
A second pilot study phase was designed to distil a set of design principles for effective mobile-assisted listening learning tools to be used for student-centred instruction.
Innovation
The second phase of the research, which took place in 2010 and 2011, had two parallel goals:
Design of mobile-assisted language learning solutions for enhanced student learning and workplace success; and
Development of a corresponding instructional design framework.
As a first step, a cross-college mobile device usage survey was undertaken, revealing that 98% of the respondents had mobile devices, largely smart phones, while just over 50% had data plans, giving them access to the web.
Students and faculty had identified their particular learning needs – listening comprehension, advanced vocabulary, terminology specific to their future employment, pronunciation, and a better understanding of socio-cultural practices. Students were not provided with mobile devices; content was built for their own mobile devices which necessitated designing for multiple mobile platforms.
The design phase of this study involved students, faculty, instructional designers, and programmers in multiple cycles of feedback, re-design, development, and prototype testing. Eight mobile language learning tasks were designed and piloted by over 100 communications students in college programs and English-as-a-Second-Language students. Among the activities:
Student created an audio dictionary, recorded their own definitions and posted them on the class web site. They evaluated each others' entries.
An idiom definition repository was set up by the students, using audio and visuals.
Student teams went on scavenger hunts at Toronto landmarks, getting hints, directions, and maps through the mobile devices, completing language challenges and solving puzzles, often by talking with strangers, and submitting answers through the phone.
Students listened to on-the-go podcasts with content relevant to their interests and future jobs; they were then asked to interact or respond to the topics.
Students contributed their reflections on the learning to a voice-based blog and listened to those of other students.
The mobile experiences were discussed in class and learning support tools were available on the phones. Instructors were not directly present during the mobile learning activities.
The prototype testing was completed in March 2011. The prototype web site is under development and serves as a preliminary guide to the resources.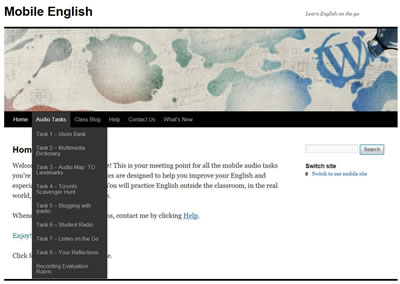 Outcomes and Benefits
Research during this 2010-11 pilot indicated that students greatly enjoyed the mobile learning and, although there were no formal pre-and post-tests, high levels of language learning were perceived by students and instructors. Students especially appreciated the real-world, outside-the-classroom characteristic of the learning.
Shared activities, such as the scavenger hunt and the joint evaluation of student work, created a community of practice and enhanced language learning through communication.
Student learning was greatly enhanced by contributing to the process of design and assessment of the MALL learning objects. They learned about effective learning approaches and technology while providing course designers with essential information about what students will do with - and what they expect - from mobile learning.
Students also created their own content, which was evaluated by others in the class and the instructor. This provided a sense of capability and community.
The design principles that have been derived from the MALL pilot study include the need for:
Activities which engage and motivate learners;
Technology-enabled opportunities to socialise and develop a community of practice;
A teaching presence and learning support available through the mobile tools, with easy connections to peers and faculty;
Collaborative activities integrating communications via mobile devices in conjunction with in-person meetings;
Guidance for using the mobile information sources and learning activities;
Tools, resources, and activities organized around pedagogical tasks;
Opportunities for students to use the mobile devices for listening, communication, learning support, photos, recording notes and audio, and sharing mini-presentations;
Opportunities for creating and sharing learner-generated content.
A second survey is to be conducted on student ownership of mobile devices, their usage habits, and their data plan access. With some providers offering student plans, increased web access will facilitate mobile learning.
Challenges and Enhancements
Faculty expressed some concerns about the technology and its application to learning and whether or not students would accept it. Some of the resistance - often based on fear of the unknown - can be dissipated through conversations, demonstrations, and showing the faculty how to take advantage of the capacities of their own smart phones.
Students need support with the technology, but this study found that the questions quickly moved from technology to content and course requirements.
The technology lacks cross-platform compatibility, which Jorge Olenewa, Program Coordinator and Professor, School of Computer Technology, who provided technological support for these projects, described as essential for inclusion and access in an academic environment. The learning tools have to work on a wide variety of platforms and many of these do not support the latest standards. The design of the MALL tools had to be quite simple to accommodate the various platforms. Inclusion also requires reasonably-priced student data plans from the major carriers.
The lack of wireless connections means that mobile learning solutions are being built that combine content residing locally on users' phones to be used when they are off-line, with content on web services to be accessed when they are online.
Potential
Aga Palalas, who led these projects, was recently appointed the Mobile Learning Specialist for George Brown College. She thinks that it is essential that there be collaboration around mobile learning as "the technology is changing too quickly for any group to work on alone." She would like to work with other post-secondary institutions to bring their collective pedagogical and content expertise to mobile learning development projects being done in collaboration with industry and other organizations. Other applications for development include using mobile technologies to connect students to institutions, potentially offering easy access to services, professors, announcements, grades, assignment delivery, and other factors important for college performance and social life. Professor Palalas is currently designing a mobile strategy for George Brown with mobile charging stations around the college as a possible first step.
For Further Information
Aga Palalas
Mobile Learning Specialist
Office of Academic Excellence
George Brown College
[email protected]
Jorge Olenewa
Program Coordinator and Professor
School of Computer Technology
George Brown College
[email protected]
Palalas, A. (2011). Mobile-assisted language learning: designing for your students. In S. Thouësny & L. Bradley (Eds.), Second language teaching and learning with technology: views of emergent researchers (pp 71-94). Retrieved from https://www.research-publishing.net/publication/chapters/978-1-908416-00-1/Palalas_7.pdf
Province
Ontario
Country