Submitted on Wed, 2016-10-05 15:26
Opportunity
When they became aware their method of teaching business students was not producing graduates who met the needs of the business community, a collective of faculty led by Associate Dean Jeremy Staples in the Pilon School of Business at Sheridan College in Mississauga set out to "create discomfort" in student thinking.
Associate Dean Staples recognized businesses were seeking new employees who were adaptable, critical-thinking, creative and self-directed, but business schools were focused on teaching students the single "correct" answer or the fixed solution to a problem. Information was increasingly available to students online, but business education was still emphasizing the memorization of knowledge transferred through the traditional lecture format. Students needed to be taught to think differently.
Innovation
When designing their new Bachelor of Business Administration (BBA) programs in 2011, the leadership team at the Pilon School made reflective practice – self-observation and self-evaluation – fundamental to these programs. Inspired by Stanford University psychologist Dr. Carol Dweck and her work on the importance of "mindset," the team began to identify and test instructional strategies that could help business students develop what Dr. Dweck describes as a "growth mindset": one that develops skills and competencies through dedication and hard work, and creates the motivation, productivity, love of learning and resilience essential for thriving in uncertain, ambiguous and evolving employment situations.
The team decided the web-based creative learning portfolio (CLP) would be central to achieving their goal of "different thinking." Dr. Golnaz Golnaraghi, a professor at the Pilon School of Business until April 2016, led in the design of the CLP model. She established a team of key people from across Sheridan College and engaged a business student through a co-op placement to ensure student representation. Extensive research, networking, testing and instructor training followed.
Sheridan's five new BBA programs launched in 2014-15. They integrate portfolio learning and reflective practice into several courses, and include internship/co-op experiences and a flipped classroom using online education primarily for knowledge transfer. Two CLP courses book-end the BBA programs: Introduction to CLPs (taken in the first year) and Advanced CLPs (taken in the final year). Through formative assessments and regular feedback, students have the opportunity to scaffold their learning, and to foster greater self-awareness and competency development.
The BBA programs now serve more than 700 full- and part-time students, all of whom use a creative learning portfolio to collect, curate and manage a set of digital artefacts related to their learning and competency development. CLPs can include reports, images, course assignments, reflective activity, videos, blogs and personal evaluations, as well as the results of a survey on learning type, which the college asks each student to complete. CLPs are held privately, providing students with a vehicle for showcasing their capabilities to prospective employers and others that is much more expressive than a conventional transcript. Because a well-managed portfolio should recognize the importance of process, during the course of study, students may be asked, for example:
What have I learned? Why is this important? What will I do differently?
What were my expectations and objectives for this activity?
Did I achieve these objectives?
When, how, and why has my learning surprised me?
The CLP courses are formally assessed as part of the graduation requirement. Learners must demonstrate they mastered competencies and met their personal, academic and professional goals as well as general program learning outcomes.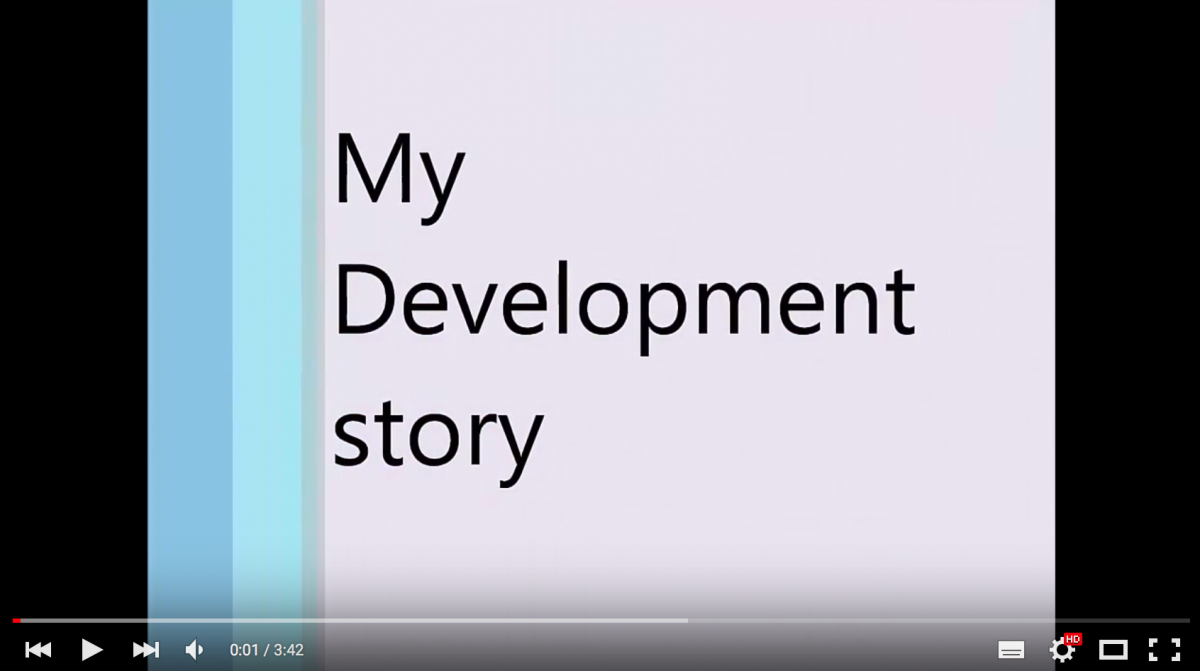 Examples of video content in students' creative learning portfolios:
Outcomes and Benefits
Dr. Golnaraghi sees the real value of reflective practice as the fostering of awareness of self, and of self as related to others. Students bring their whole self into the learning process, explore and understand their strengths and values, normalize challenges and failures and learn from them. Through CLPs, they are able to curate their personal brand, track their progress and intentionally set goals focused on developing competencies essential for successful employment.
Associate Dean Staples is convinced that creative learning portfolios "must be integrated into an entire program, otherwise there will be no benefits. They must be part of the learning culture." Students tell him they are comfortable in the "new way of thinking" after the initial discomfort. He recalls a BBA student who revealed she struggled until she reached the half-way point of her CLP course and came to understand why her various areas of study were important to her long-term career goals. Another student approached him because she had not done math since high school and was especially nervous about calculus. He spoke with her about developing a "growth mindset" and in time she returned to tell him she was now excelling, having combined hard work with available resources including tutoring sessions, access to professors, and the reflective learning insights that helped her direct her motivation.
The transition to a reflective practice model of learning has proven to be one of the more interesting changes for faculty, making teaching more spontaneous and surprising, and fostering greater student engagement, which in turn is a driver of faculty engagement.
Challenges and Enhancements
When Sheridan's leadership team set out to introduce reflective practice to its BBA programs, it was with an awareness of some basic realities:
Reflective practice is not easy. It is a skill that takes time and effort to attain; it needs to be nurtured and fostered.
Change can be difficult in any organization, but particularly in one that is well established and successful.
Unlike the traditional lecture setting, a reflective practice model is student-driven and self-directed, making it less linear and unpredictable for instructors and students.
To make the transition in learning styles as successful as possible, it was decided the learning process would be structured around reflective practice from the outset, and the concept of growth mindset and an intentional and conscientious approach to learning, growth and development would be introduced early in the students' BBA experience. Beyond the extensive early research and trial-and-error testing, the leadership and design team recognized the chances of success would be improved with the following practices to support instructors:
Rolling out the program in stages;
Providing training to faculty to support the transition;
Sharing evidence of success within the department; and
Allowing faculty - within limits – to transition to the new model at different speeds.
Students' needs were also closely considered. Associate Dean Staples notes that "although we assume that students welcome change, they too are accustomed to certain practices in education, and moving too quickly with different assignments, activities and assessments can be overly disruptive." Guidance is provided to help students structure their work and considerable effort is made to ensure they understand what is expected of them and how the new approach can benefit them during their studies and beyond. Sheridan will continue to enhance the BBA curriculum to allow learners to explore their "why" for studying in the program and to engage at a more intrinsic level in their learning.
Potential
Components of the reflective practice initiative are already seeping beyond the five BBA programs for which they were designed. The Pilon School of Business's multiple diploma programs are using reflective practice and other techniques formalized in the BBA programs to renew and bolster learning outcomes and student engagement. Sheridan is looking at using the creative learning portfolio model in other programs, while Associate Dean Staples wants to focus on sharing the process and progress beyond Sheridan College.
For Further Information
Jeremy Staples
Associate Dean, Pilon School of Business, Sheridan College
[email protected]
The Pilon School of Business, Sheridan College
Province
Ontario
Country