Submitted on Fri, 2016-07-08 10:43


Opportunity
Interest in the idea of open badges began in about 2010 in the United States as a way of visually presenting and recognizing skills and achievements gained outside of assessment and accreditation systems of educational institutions. As learning resources become more open and accessible, badges are seen as a way of translating competencies and knowledge gains into virtual representations useful for job applications and promotions, further learning opportunities, and proofs of achievements.
Badges can be issued by any organization, association, or institution offering content for learning, whether content is seminars, lectures, a series of open educational resources, or other format. Content can cover skills ranging from geology, to computer programming, group leadership, and creative writing. The term "open badges" indicates the badges are openly accessible, in the same way as open educational resources and open research.
Mozilla Open Badges developed an open standard for collecting badges from multiple suppliers and systems. To help validate quality, required information for each badge includes:
Name of badge recipient;
Name of badge and badge image;
Name of issuer of badge;
Date of issue of badge;
Description of the skills and/or knowledge it is acknowledging; and
Criteria used for assessing the associated skills and/or knowledge.

Additional detail may also be included, such as:
Evidence of achievement of learning (may be essays, exam scores, assignments, videos, project results, etc.);
Instructor or peer assessments and references; and
Statements from learners about their accomplishments.
The Backpack tool, which is part of Mozilla Open Badges, allows badge earners to collect and display badges from sources around the world, as well as share them on blogs, Twitter, Facebook and other sites.
Dr. Ilona Buchem, Professor for Communication and Media Sciences at the Beuth University of Applied Sciences in Berlin, Germany recognized the potential of badges to offer additional recognition not part of formal summative evaluations of universities.
Innovation
BeuthBonus, one of Dr. Buchem's projects with funding from the German government, is designed to help migrants with degrees in information technologies from other countries find employment appropriate to their education. The project addresses skill shortages and encourages migrant integration into German society by using their already acquired qualifications. An employer advisory board was set up to help define the requirements of IT industry employers, describe essential competencies, establish necessary credentials, and endorse the idea of Open Badges.
The project is to run from 2015-2018, with a goal of 40 participants a year who complete modules and receive coaching to develop the eight skills outlined by employers – such as team skills and language abilities relevant to the IT field. Participants request appropriate badges and demonstrate their competencies as defined by the Advisory Board.
Badges are issued through the learning management system, Moodle, and collected by students in Mozilla Backpack. From there, they can be shared with prospective employers or sent to social media sites such as LinkedIn.
Research is being done on how badges are used by academics and employers. Anecdotal information from a previous project indicates some academics were able to use badges to achieve their professional and educational goals.
Dr. Buchem is also Coordinator of the Open Badge Network, a strategic network of those interested in open badges funded by the Erasmus+ Programme of the European Community from 2014-2017. Its mission is to establish the Open Badge Network as a trusted source of independent information, tools, and informed practice, facilitating development of the open badge ecosystem across Europe.
The Open Badge Network website offers publications, tools and videos to explain open badges and their applications in all types of learning environments, as well information on the network, its projects and outcomes.
With projects from 17 partner countries in Europe and numerous other organizations around the globe, over 200 Open Badge projects are presented on the map from the Open Badge Network.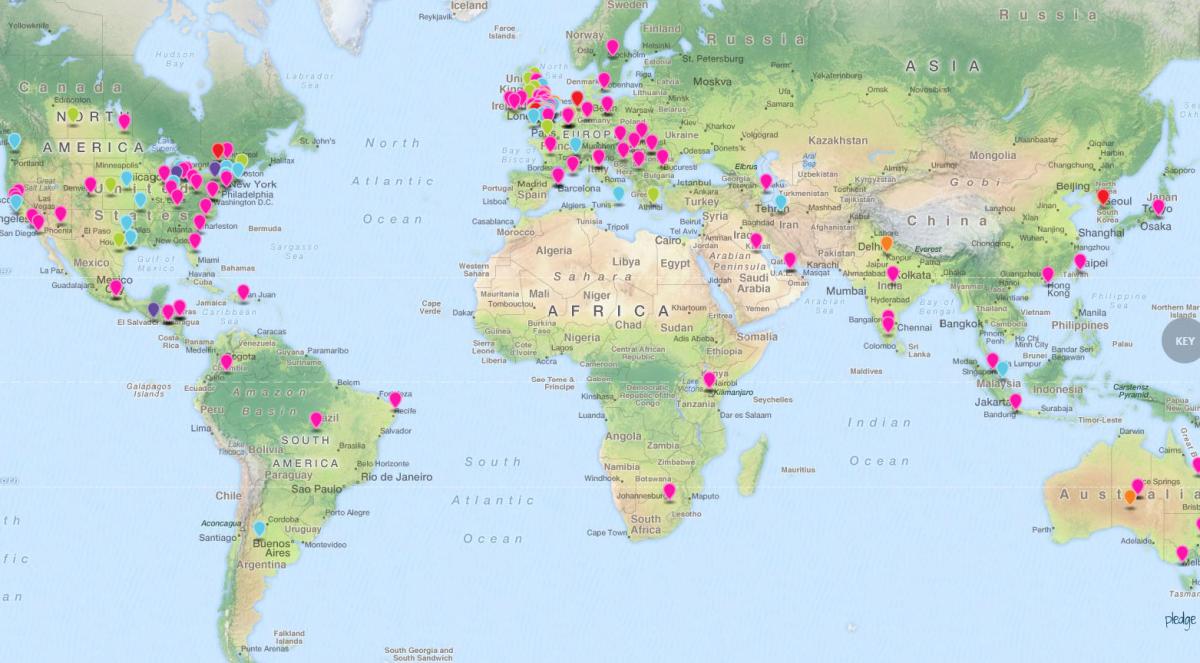 A current Open Badge Network project focuses on quality http://www.openbadgenetwork.com/outputs/quality/, with input invited from all those interested in the topic. As of July 2016, a discussion paper on quality is to be available at http://www.openbadgenetwork.com/outputs/quality/, ready for readers to comment on and discuss.
Outcomes and Benefits
Open badges can be used to share information about individuals receiving them in numerous ways not possible with traditional university assessment. Within the badge infrastructure, information can be provided on an individual's accomplishments and demonstrations of skills and capacities. Skills can be matched directly to requirements for employment.
Badges and other indications of specific skill mastery are being welcomed by some employers, notably in the US and in information technology fields, where full degrees may not indicate capacities required. In some cases, employers are looking for so-called soft skills such as communication, leadership, research and analysis, which can be acquired and acknowledged through non-formal learning and badges.
Challenges and Enhancements
The concept of badges offers a challenging contradiction, as described by Dr. Buchem: "If badges are subject to too many, restrictive controls, then they start to replicate current systems of assessment; if there is inadequate control (or what is perceived as inadequate control), then no one can assess quality." Discussions around this dilemma are ongoing within the Open Badge Network.
Much of higher education is not open to the opportunities badges can offer. Many see them only as disruptive, interfering with already established systems of assessment and credentialing.
Badges are not all equal as some may indicate extensive commitment of time and energy and others can be earned in a very short period.
Potential
Project such as BeuthBonus indicate how badges can be used to aid learners and employers, but badges still face ongoing challenges concerning value and acceptance. The idea is still relatively new, with a need for research, collaborative experiments, sharing, and policy support. However, as the number of projects highlighted by Open Badge Network indicates, many organizations, institutions, and individuals are finding badges a useful and valuable approach to recognizing learning.
For Further Information
Dr. Ilona Buchem
Professor
Communication and Media Sciences
Beuth University of Applied Sciences
Berlin, Germany
https://ibuchem.wordpress.com/2015/11/21/open-bages-for-migrant-academics/
Institution
Beuth University of Applied Sciences
Teaching and Learning
International Pockets of Innovation
Country
Germany