Submitted on Thu, 2014-06-19 14:16
ATutor is a free, open source learning management system for developing and delivering online courses, available through the ATutor site. ATutor provides all the typical components of a learning management system, with special capacities for interoperability and transferability of content to and from other systems and for accessibility and adaptability for students with disabilities. ATutorSpaces was established to provide hosting and support for educators using ATutor.
ATutor
In addition to being a full-service learning management system (LMS), ATutor adheres to accessibility and interoperability standards. Three key elements of this are:
Content Interoperability: ATutor allows for creation, revision, importing, and exporting of both rich content and tests from, and to, other learning management systems that support common interoperability standards. ATutor has been an innovator in implementing content, test, and accessibility interoperability standards as an early adopter of IMS Common Cartridge, IMS Question Test Interoperability (QTI), IMS Content Packaging, and ISO AccessForAll standards.
Adaptability to individual needs and preferences: Students define the content formats they prefer for learning, whether video, images, text, or audio, as well as colour, font size, and background, among other preference settings. As described by Greg Gay, President and CEO, "ATutor is currently the only system that offers AccessForAll support allowing content developers to create learning materials that adapt to individuals, and allowing learners to configure the environment to their personal needs. This means, for example, that a student who is blind can configure the environment to present alternatives to visual elements, a student who is deaf can replace audio content with a transcript or append captions to a video, or a person with poor vision can configure the environment with large, high-contrast fonts."

Accessibility: Screen reader users can navigate through ATutor without running into unforeseen barriers, and participate fully with their sighted classmates in all class activities. Instructors with disabilities have the same accessibility support, with added support for creating accessible learning content. ATutor conforms to most international accessibility standards. ATutor also adapts to various devices, like phones, tablets, or desktops and the accessibility features each has to offer its users.
ATutor gives students access to course content and tests, as well as social networking, work groups, group blogs, chat rooms, file storage, news, photo galleries, forums, and link sharing, among many other tools. Instructors can chose from the wide range of course tools and configure them to suit their courses. They can create work groups, drop box folders, and have access to social networking and communication tools.
The integrated open source AContent repository provides access to all the content authoring tools that can be found in ATutor and acts as a central platform for collaborative authorship and sharing of content. Students can explore AContent to discover learning materials and instructors or authors can import from, export to, or seamlessly link AContent learning content into their ATutor courses. AContent can be integrated with many other online learning management systems.
ATutorSpaces
ATutorSpaces was created in 2010 as the hosting and support site for faculty who wish to use ATutor to develop and deliver courses. It is designed to appeal to smaller scale consumers, such as individual professors, college and university departments, and small companies for example. A number of course templates are available for instructors to use for course construction, with specific themes to appeal to different groups of learners. ATutorSpaces is designed for simple course design and easy access by students and instructors.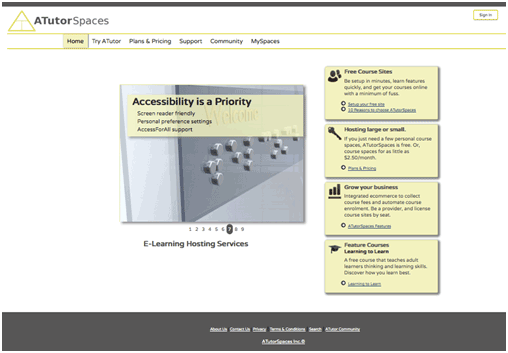 A wide choice of course tools is available, along with the ability to develop individual resources and/or integrate multimedia from multiple sources, and to create or assemble whatever form of content best suits the subject matter and student needs. Links are available to incorporate an extensive list of online tools – videoconferencing, blogs, chats, quizzes, discussion boards – whatever the instructor judges to be appropriate for students.
Online testing, grading, individualized feedback, social networking, communication, and file sharing are fully supported, as is course delivery on all types of mobile devices. The content is adapted to fit the size of device. Integration with online payment systems is available for those who wish to automate, registration, enrolment and fee collection.
Support: Support is available through online documentation, including the online ATutor Handbook, and through the Community Support Forums offering advice and responses to technical or general usage questions. ATutorSpaces provides custom add-on and theme development services, as well as fee for service support for both ATutorSpaces hosted sites, and for those managing their own privately hosted ATutor sites.
Service Packages: There are four hosting service levels offering access to ATutorSpaces:
The first provides space for three courses, 300 MB of storage space, with unlimited student accounts, and access to shared community support and the shared AContent repository of course material and learning objects. This is a free service level.
The Basic plan offers space for 10 courses and 1 GB of storage space, in addition to e-commerce integration and access to customization services.
The Plus plan has 25 course spaces and 2.5 GB of storage space, supplemented with access to the private AContent Repository and videoconferencing.
The Advanced Plan provides all of the previous features, with space for 50 courses and 5 GB of storage space.
Additional course spaces and storage space can be purchased as needed.
The Company
ATutor, based in Toronto, was created in the late 1990s to fill a void for inclusive/accessible education online learning environments. Greg Gay began developing ATutor to provide an accessible platform and in 2001, ATutor was released as an open source learning management system to demonstrate for other LMS developers how accessibility standards could be incorporated. It is now used worldwide and has become a test-bed for emerging accessibility and online learning interoperability standards through the open source community of users and developers that has evolved. ATutorSpaces is the commercial arm of ATutor, providing hosting and support services with profits being routed back into the open source community to support the continued development of ATutor and keep it free.
The Future
In the near future, ATutorSpaces will be expanded to support larger organizations, with the possibilities of contract-based hosting and dedicated ATutor servers. Additional payment gateways, such as Wave and PayPal, will be supported and annual subscription plans are to be developed. Work will continue on complying with standards for accessibility and portability.
For Further Information
Greg Gay
President and Chief Executive Officer
ATutor/ATutorSpaces
[email protected]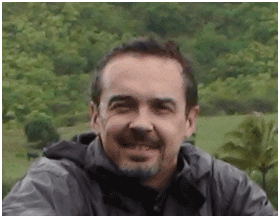 Tools and Trends